3 held over youth murder in Uttarkhan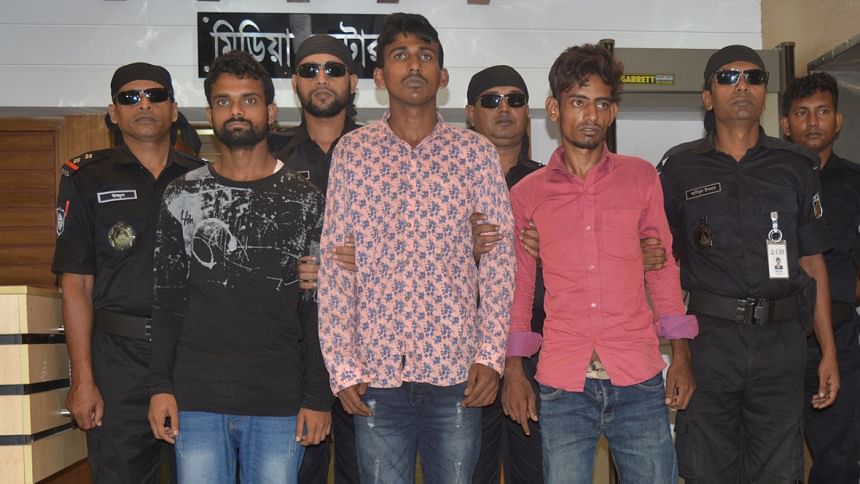 Rapid Action Battalion (Rab) members have arrested three people for allegedly killing a youth in Dhaka's uttarakhan area.
Rab arrested Shahin Miah alias Black Shahin, 24, Manjurul Islam alias Miju, 24, and Farhad Hossain, 26, on Munday night in a case filed over the murder of one, Shakib Hossain, 20, in Batulia area of Uttarkhan on June 15, said Lieutenant Colonel Sarwar-Bin-Kashem, commanding officer of Rab-1.
Tipped off, the members of the elite force, launched a drive in Batulia area under Uttarkhan Police Station last night and arrested them, Sarwar-Bin-Kashem said in a press briefing at Rab media centre in Dhaka today.
After gleaning information from the arrestees, the Rab team also recovered the knife used for killing Shakib from Kataltala area and seized three mobile phones from their procession, he said.
Quoting arrestee Shahin, the Rab official said a group of 6-7 people including arrestee Shahin tried to stanch mobile phone and money from victim Shakib and his friend Shipon Mia, 19, in Batulia area of Uttarkhan on the evening of June 15.
Shahin stabbed Shakib and Shipon with a sharp knife as they protested the mugging, he said.
Critically injured, they were taken to Dhaka Medical College Hospital (DMCH) where doctors declared Shakib dead, he added.
A case was filed against 7-8 unknown people with Uttarkhan Police Station a day after the incident of killing.