'Wilful negligence' behind accidental deaths: Dr Kamal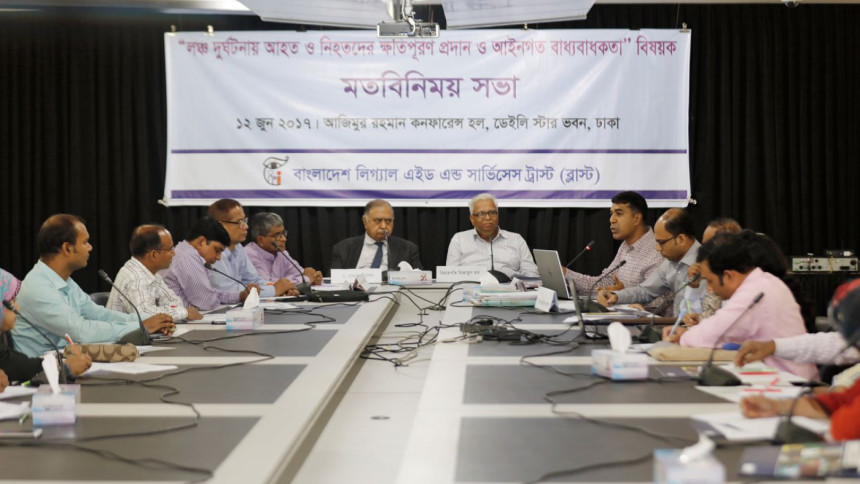 Eminent jurist Dr Kamal Hossain yesterday said killing of people in road and river accidents is taking an "institutional form" in the country.  
"These cannot be described as accidents. Another term should be introduced for the concept... these are acts of almost wilful negligence," he said.
The jurist, also an architect of the country's constitution, made the remarks at a views exchange meeting organised by Bangladesh Legal Aid and Services Trust (BLAST) at The Daily Star Centre.
People are dying in road accidents and launch capsizes each year due to intentional acts of negligence, he alleged, adding that the authorities concerned should find out the reasons behind such recurring incidents.
Professionals from different sectors including judges, lawyers and rights activists attended the programme to discuss legal obligations to compensate victims of launch capsizes.
BLAST on June 5 won a landmark case in the High Court which upheld a lower court verdict ordering BIWTA (Bangladesh Inland Water Transport Authority) and a launch owners' association to pay Tk 17.11 crore in compensation to the families of victims who died during the capsize of launch MV Nasrin-1 in 2003.
MV Nasrin-1 capsized on July 8, 2003 at the confluence of the Padma, Meghna and Dakatia in Chandpur, leaving 110 people dead, about 200 missing, and many others injured, according to a government investigation report.
Speakers at yesterday's meeting said a moral victory has been ensured through the HC judgement.
It will help victims of other incidents get justice, they said, adding that the authorities concerned need to act promptly in disbursing compensation money to the families of victims.
They advised that the method of swift disbursement of compensation to the families of deceased expatriate workers should be followed in this regard. The authorities can also follow the model of prompt procedure adopted in India to compensate accident victims there.
Former Appellate Division judge Justice Md Nizamul Huq said advocacy programmes and accident awareness campaigns need to be continued.
Supreme Court lawyer Advocate Subrata Chowdhury demanded that the government form an "Accidental Compensation Tribunal" to promptly handle cases filed over compensation claims of accident victims.
Prof Ridwanul Hoque of department of Law at Dhaka University and SC lawyer Md Abdul Halim, among others, spoke at the discussion presided over by Dr Kamal Hossain, also president of BLAST.