Wife kills husband after row over finances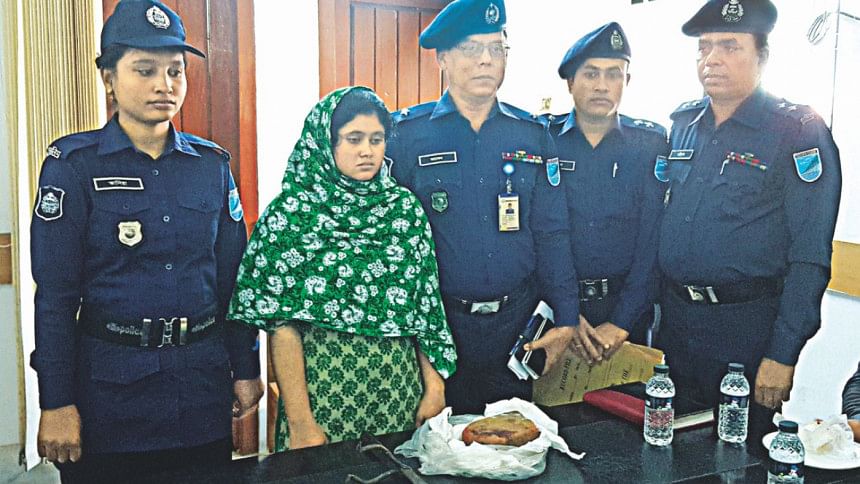 Police arrested a woman on Friday for killing her husband following an altercation over financial affairs.
The arrestee was identified as Jibonnahar, wife of Rabikul Islam, resident of Gorgoriya Masterbari area under Sreepur upazila of Gazipur, said Jabedul Islam, officer-in-charge of Sreepur Police Station.
Locals spotted a blood stained sack in the bamboo grove near the boundary wall of Meghna Composite Mills and informed police. 
On information, police rushed to the spot, recovered the sack and found Rabikul's body parts in it. Jibonnahar was detained for interrogation. 
"During primary interrogation, Jibonnahar admitted that she killed her husband, cut the body into pieces and put those in the sack before throwing it away," said Gazipur Superintendent of Police (SP) Shamsunnahar.
A murder case was filed yesterday with Sreepur Police Station by the victim's father Abdul Latif in this connection. Jibonnahar was shown arrested in the case.
During a press conference at the office of the SP yesterday, Jibonnahar described the incident. 
Quoting her, the Gazipur SP said, Rabikul, from Mymensingh, married Jibonnahar five years ago. The couple and their four-year-old daughter Maria lived in a rented house in Sreepur.
Rabikul was a store loader at a local garments factory while his wife Jibonnahar was employed as a sewing operator at Meghna Knit Composite Ltd. They often fought over money issues.
On Thursday night, the couple had an altercation. At one stage, Rabikul slapped his wife. While Rabikul was sleeping that night, Jibonnahar repeatedly hit him on the head with a brick until he lost consciousness. She then strangled her husband to death with a gamchha (towel) and hid the body inside a cupboard. On Friday morning, she went to work.
After returning home at 11pm, Jibonnahar cut Rabikul's body into pieces – severing the head, hands and legs – using a boti (curved kitchen knife). 
She then put the body parts in two sacks and threw one of the sacks in a drain near her house, while the other was thrown in the bamboo grove near Meghna Composite Mills.