Why Ctg waterlogging a never-ending problem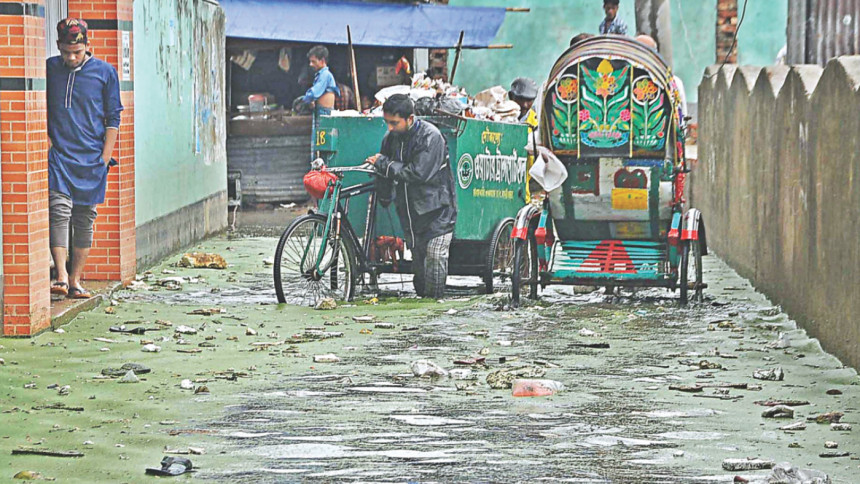 Though a number of initiatives have been taken over the years to address Chittagong city's waterlogging problem, many of those have apparently gone down the drain due to a lack of coordinated efforts by the government bodies concerned.
Town planners and experts made the observation while approached by The Daily Star in the wake of recent waterlogging crisis caused by the Friday's incessant downpour in the port city.
Following the rainfall, many low-lying areas in the city went under knee-to-waist-deep water, causing immense sufferings to the city dwellers.
Chittagong City Corporation (CCC) spent about Tk 292.89 crore since 2003-04 fiscal to address the problem, CCC sources said.
In this regard, town planner Subhash Barua said, "If money is spent in an unplanned way, it will bring no results."     
There is no "integrated action plan" to mitigate the problem, he commented.      
In addition, water bodies and open spaces are shrinking due to an "unplanned development"; as a result, rain water cannot recede, causing waterlogging, he said.   
Subhash also underscored the need for dredging drains, canals, the Karnaphuli river on a regular basis.
The city's canals and drains have to be recovered from the clutches of the grabbers, he added.  
Engr Delwar Majumder, former chairman of the Institution of Engineers Bangladesh, Chittagong Centre, said Chittagong city's waterlogging problem is multi-dimensional.
"It is not possible on part of CCC alone to address the problem," he opined. 
To him, in Chittagong, tidal water adds to rain water. Moreover, an onrush of water from upstream carries sand, which contributes to filling up the drains and canals.
He said silt trap could be set up to hold back sand. To address waterlogging, tidal regulators and water retention points could be installed, he opined.
Moreover, utility services, including gas, water and land lines, running through drains, have to be removed, which requires coordination from different concerned bodies, he said.   
Taking into consideration the multi-dimensional nature of the problem, Engr Delwar said an "integrated approach" involving other concerned government bodies is needed under the leadership of the CCC mayor.
Contacted, CCC Chief Engineer Lieutenant Colonel Mohiuddin Ahamed said waterlogging is a longstanding issue, and they are trying their best to mitigate the city's waterlogging. 
Bidyut Kumar Saha, executive engineer of Bangladesh Water Development Board (BWDB), Chittagong-1, said a project styled "Flood control, drainage improvement and water-logging mitigation of Chittagong city", involving about Tk 3,165.18 crore, awaits government approval.
Waterlogging problem will significantly be checked if the proposed project, which is expected to be concluded in June 2021, is implemented, he said.