Victory Day today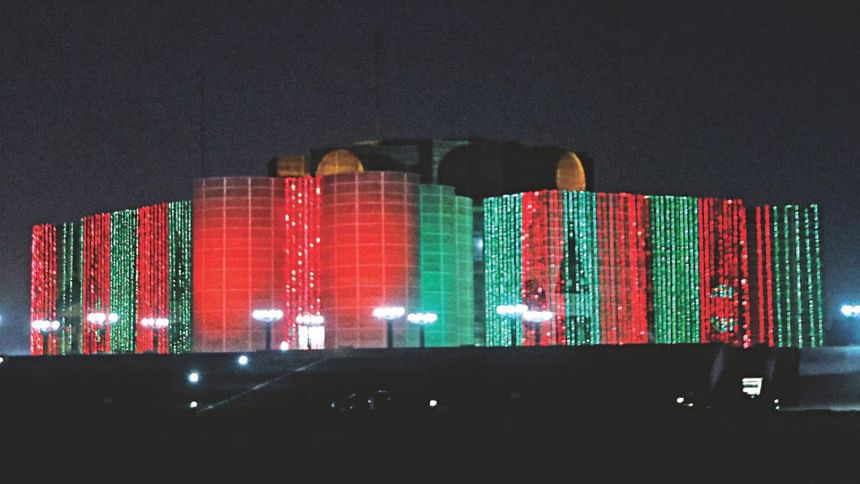 The nation is celebrating 47th Victory Day today with elaborate programmes to pay deep homage to the martyrs who laid down their lives for the country during the Liberation War in 1971.
On this day in 1971, Pakistani occupation forces surrendered after a nine-month war resulting in independent and sovereign Bangladesh.
The day is a public holiday.
This year, the Victory Day celebration has reached a new height as the Unesco on October 30 recognised Bangabandhu's historic March 7 speech as a world documentary heritage.
On March 7 in 1971, Father of the Nation Bangabandhu Sheikh Mujibur Rahman in his fiery speech called on the freedom-loving Bangalees to wage a decisive struggle against the Pakistani rulers.
"Ebarer sangram amader muktir sangram, ebarer sangram swadhinatar sangram [The struggle this time is a struggle for emancipation, the struggle this time is a struggle for independence]," Bangabandhu declared in a thunderous voice at a mammoth rally at the Racecourse Maidan (now Suhrawardy Udyan) that day.
Different political parties, socio-cultural organisations and educational institutions have taken up various programmes to mark the day.
Meanwhile, President Abdul Hamid, Prime Minister Sheikh Hasina and BNP Chairperson Khaleda Zia have issued separate messages on the occasion.
President Abdul Hamid in his message said the historic March 7 speech of Father of the Nation Bangabandhu Sheikh Mujibur Rahman has been included in the international memory of the world register as World Documentary Heritage by Unesco. This recognition has made the whole nation proud once again.
Besides, Prime Minister Sheikh Hasina said such recognition is the source of inspiration and a great pride for Bangalee nation.
As part of the day's programmes, a colourful parade will be held at the National Parade Square at Sher-e-Bangla Nagar in the morning.
Freedom fighters, members of the armed forces and law enforcement agencies will take part in the parade.
President Abdul Hamid will take salute and inspect the parade as the chief guest while Prime Minister Sheikh Hasina will also be present there.
The president and prime minister will place wreaths at National Memorial in Savar in the morning to pay their tributes to the martyred freedom fighters.
They will be followed by the freedom fighters and their family members, foreign diplomats, leaders of Awami League and different political and social organisations and people from all walks of life.
The national flag will be hoisted atop all government and private buildings while the government and semi-government buildings and other public places will be illuminated and roads and islands will be decorated with flags and festoons in all cities of the country on the occasion.