Treat domestic helps with respect
Speakers tell rally at DU ahead of May Day today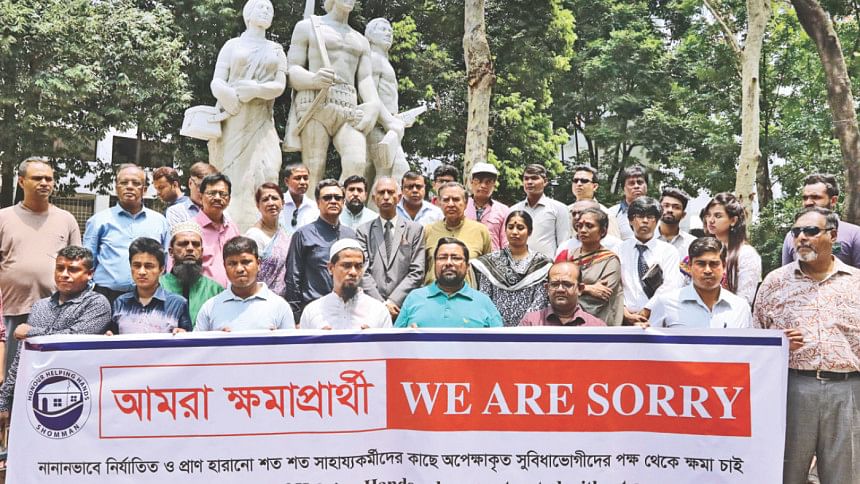 Domestic helps, who work day and night to make others' lives easy, should be respected, said participants at a rally yesterday, marking May Day.
The rally was organised by Shomman, a civil society platform, on the Dhaka University campus to show respect to all helping hands including domestic helps, chauffeurs, gardeners, liftmen and private security guards.
The participants were carrying a banner reading, "People who work at households are treated without any empathy."
"A total of 937 domestic helps including liftmen, private security guards and gardeners were killed in 45 years since 1972," said Rafique Sulayman, spokesperson of the organisation that works for the rights and wellbeing of domestic helps.
"On the eve of May Day, we have to ensure security of all of them," he said.
In front of Aparajeya Bangla, the rally participants, under the banner of "We are Sorry", apologised to hundreds of helping hands who were treated without any empathy.
DU Vice Chancellor Prof AAMS Arefin Siddique and Editor and Publisher of The Daily Star Mahfuz Anam were among others, who attended the rally.
"We all have to create a conscience among all in the society so that they show respect to our domestic helps," the DU VC said, adding, they all work 18 hours a day.
Shomman has been actively involved in promoting the rights of helping hands, especially domestic helps, who are sometimes treated as modern-day slaves.