The Daily Star joins Rise Above All 2019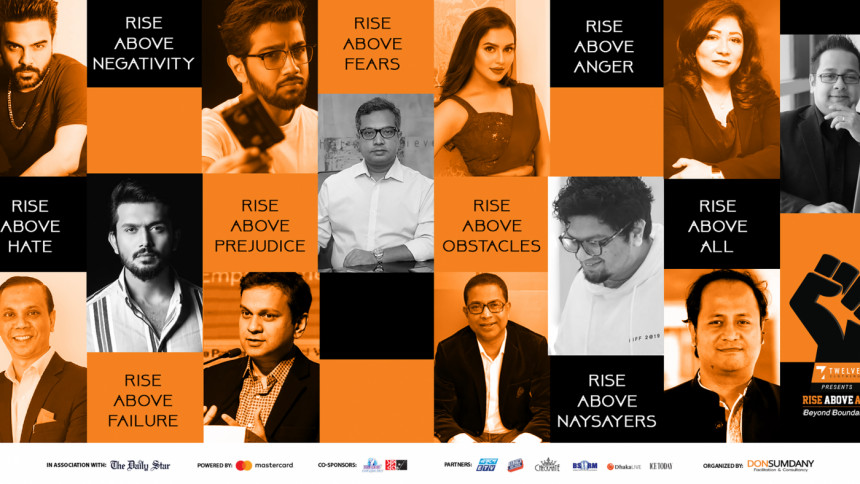 Being well aware of its influence on the youth and young professionals of the country, nation's leading English newspaper The Daily Star has joined hands with "Rise Above All 2019".
Rise Above All, hosted by Don Sumdany Facilitation and Consultancy is the country's largest public speaking platform. The theme for the year 2019 is "Beyond Boundaries", reads a press release issued in this regard.
"Hosting the event creates better opportunity for students and young professionals to directly connect with people who are extremely successful in their fields and have great wisdom to share" the press release quotes Ghulam Sumdany Don, chief inspirational officer of Don Sumdany Facilitation and Consultancy as saying.
This event has established a widespread reach over the past years and this time after careful curation, 2000 live audience are expected to turn up, according to the press release.
The daylong event will be held on Saturday, November 16, at Krishibid Institution Bangladesh Complex located in Khamarbari, Farmgate, Dhaka.
The guest speaker lineup is an interesting mix of famous personalities from corporate, media, and government sectors  namely- Abdullah Hil Rakib (MD of Team Group), Arifin Shuvoo (Actor), Asif Saleh (Executive Director of BRAC), Habib Wahid (Composer, Musician & Singer), Kamrul Hassan (Group CEO-Igloo), Mohibul Hassan Chowdhoury Nowfel, MP (Deputy Minister of Education), Mominul Islam (MD & CEO- IPDC), Nuhash Humayun (Filmmaker), Nusrat Faria(Actress), Pritom Hasan(Composer & Singer), Sonia Bashir Kabir (Founder, Chairman & CEO- SBK Tech Ventures).
The program will be hosted by Ghulam Sumdany Don (CIO- Don Sumdany Facilitation & Consultancy).
Free Registration is going on for the event. Only selected individuals will be able to attend and enlighten themselves with the knowledge and wisdom of the speakers. Twelve clothing is the title sponsor of the event. The event is powered by Master Card and co-sponsored by SHWAPNO and Igloo.