Tannery: A troubling tale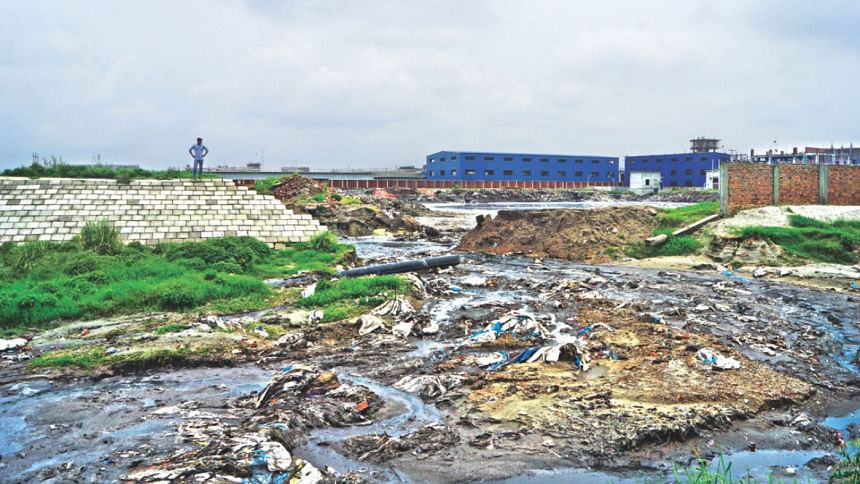 On May 2, Mahabub Hossain was working at a rawhide processing plant in the Savar Tannery Industrial Estate in Hemayetpur.
He was pickling (a method of preparing hides for tanning by immersing in a salt solution) rawhide in a tank, where it is processed in a mixture of chemicals.
Suddenly, the 50-year-old felt sick and lost consciousness. Two of his co-workers -- Hasan Mia and Moazzem Miah -- went to help him right away. They too fell sick after "inhaling poisonous gas".
The incident took place around 2:00pm.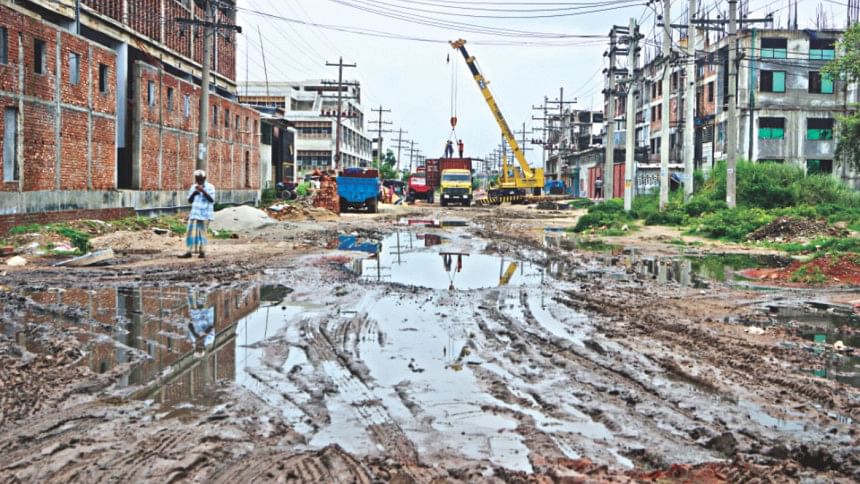 By the time other workers took the three to Shaheed Suhrawardy Medical College Hospital at Sher-e-Bangla Nagar in the capital around 4:00pm, Hasan had already passed away. He was 25 years old.
The other two were referred to Dhaka Medical College Hospital. Mahabub was declared dead there around 5:30pm.
Meanwhile, Moazzem, after staying at the hospital for a week, was taken to his village in Noakhali. He is yet to recover, said Abdul Azid, his brother-in-law.
Both the deceased left behind families who are not only grieving the loss but also struggling to survive.
But their fate could have been different if there were sufficient precautionary measures at the tannery estate.
First of all, there is no adequate protective clothing for the workers while handling hazardous chemicals. Secondly, the factories do not have any primary health care facilities available. Thirdly, there is no hospital at the tannery estate or any ambulance to carry patients. Fourthly, most roads inside the estate are in dilapidated conditions, hampering day-to-day activities and causing delay in taking patients to hospitals in times of emergencies.
BASIC RIGHTS STILL A FAR CRY
To save the capital's lifeline, the Buriganga, majority of the tanneries were relocated to the Tannery Industrial Estate in Savar from Hazaribagh.
In the last couple of years, almost all the 155 tannery factories were shifted to the estate, established in an area of 200 acres in Horindhara near the Dhaleshwari river, following government orders.
But the situation for the workers has not changed much.
The workers at the estate complained that they are yet to get basic workplace rights and facilities. They also demanded safety gears for them.
Moreover, many of them have to bear additional transport fare as they commute to their workplaces from the capital. These costs could be avoided if they had accommodation facilities near the estate, they added.
The workers said they have to struggle to cope with the price hike of essential commodities with their income. They said they make around Tk 8,000 to Tk 10,000 per month.
Also, the drainage and lighting systems have to be developed and there should be a canteen at each factory in the estate, they added.
Abul Kalam Azad, president of Tannery Workers' Association, said it is the duty of the government and the owners to provide the workers with basic workplace rights.
Sikander Ali Minu, executive director of Safety and Rights, said, "Owners have to ensure workers' rights first. At the same time, they have to make sure that the working condition is safe, otherwise accidents will continue to occur."
AB Siddique, project director of Savar Tannery Industrial Estate, said the workers' demand would be met gradually. He did not elaborate any further.
Shaheen Ahmed, president of Bangladesh Tanners' Association, said, "Since relocation, we have been requesting the government to build a dormitory, hospital, school for workers' children and mosque inside the estate."
About primary healthcare facilities for the workers, he said some factory owners just shifted the factories. "Some are trying to arrange such facilities," he claimed.
This newspaper also spoke with some of the factory officials. They apparently did not want to talk about anything else other than their own issues.
Abdul Kuddus, managing director of Vulua Tannery Private Ltd, said, "We are already facing problems. We are not getting a bank loan as the land is yet to be registered in our name."
WORKERS DEMAND HOSPITAL
While talking to this newspaper, many workers demanded that there should be a hospital inside the estate along with ambulance services for ensuring their safety.
So, when an accident occurs, they can take the injured to the estate hospital promptly, rather than waiting for a vehicle to take them elsewhere. That way, the injured would have a better chance of survival, as every second is crucial for them after an accident, they stressed.
This newspaper also spoke with the family members and co-workers of the deceased. They too shared the above sentiment.
Alauddin, a worker at Prince Leather Industry, where Hasan and Moazzem used to work, said, "I think the two died due to a lack of emergency treatment. If there was a hospital inside the estate, they could have lived."
Reaz Miah, Hasan's brother and also a worker at the estate, said, "I lost my brother as he didn't get any treatment right away."
Rozi Begum, wife of another deceased Mahabub, echoed him.
When asked, Dr Amzadul Haque, upazila health and family planning officer of Savar, said tannery workers have to work amid toxic chemicals, so there is a risk of accident.
"Setting up a primary treatment centre at the estate is essential to tackle any accident. If such a centre or hospital is available at the site, workers can take primary treatment there before shifting them elsewhere," he said.
Contacted, Abul Kalam Azad, president of Tannery Workers' Association, said the government should have built a hospital inside the estate before shifting the tannery.
Also, tannery owners should arrange ambulance services as well as primary health care facilities for the workers. But they are yet to take such steps, he added.
"The lives of around 15,000 workers are at risk due to unsafe conditions," he added. "At least nine people have died in workplace accidents after shifting the tannery here," he claimed.
ROADS LEFT BATTERED
During a recent visit to the estate, the roads were found in a terrible state. Many developed potholes, collecting liquid waste discharged from the factories.
Some tannery workers complained that the sorry state of the roads had been hampering their day-to-day activities.
Ismail, a worker, said they cannot move freely as some parts of the roads are always waterlogged and muddy. The situation worsens during monsoon, he added.
Another worker, Ruhul Amin, said they used to work in a polluted environment in Hazaribagh. "The working condition here is no better. The roads remain muddy whether it rains or not."
Moreover, there is no light on the streets, making it hard to move around at night.
Jamil Khan, a worker of Apex Tannery, echoed Ruhul. He urged the authorities to develop the road communication for ensuring a better working environment.
About the condition of the roads, AB Siddique, project director of Savar Tannery Industrial Estate, said, "We won't be able to finish repairing the roads this year since monsoon has already started. We will complete the work by next year."