Sunken vessel in Sundarbans yet to be salvaged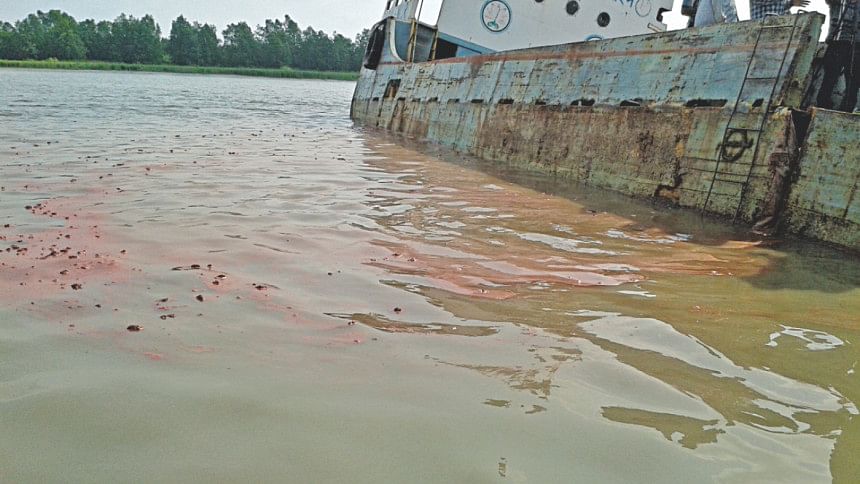 The cargo vessel carrying fertiliser that sunk in the Bhola River at Sarankhola range of the Sundarbans on Tuesday is yet to be salvaged even after four days.
Forest department officials failed to recover the remaining fertiliser inside the cargo despite their two-day effort using dredger machines. If the toxic chemical fertiliser mixes into waters of a vast area, it will pose a severe threat to the mangrove forest's ecosystem.
An inquiry committee of the environment and forests ministry visited the spot yesterday and collected information.
Joint Director of Bangladesh Inland Water Transport Authority (BIWTA), Khulna AKM Abul Bashar said the cargo vessel ran aground in a char around 2,000 feet off the main channel and then sank.  As it sank far from the main channel, the vessel owner will have to salvage it. If they fail to do it within a month, it will be sold in auction. A letter will be sent to the vessel owner soon in this regard, he said.
Kamaluddin, Sundarbans east zone Sarankhola range assistant conservator of forest, said now the cargo vessel is being covered by silt. Although the forest department filed a case against four people, including the vessel owner, no one has been arrested yet in this connection.
The cargo vessel - 'Jabalenoor' - was carrying about 200 tonnes of potash fertiliser, said Amir Hossain Chowdhury, divisional forest officer of the Sundarbans East Zone.
The district administration has formed a probe body to investigate the incident, he added. The fertiliser-laden vessel sank some five months after an oil-tanker capsized in a river in the world's largest mangrove forest.