Students urge EC to change election date for Saraswati Puja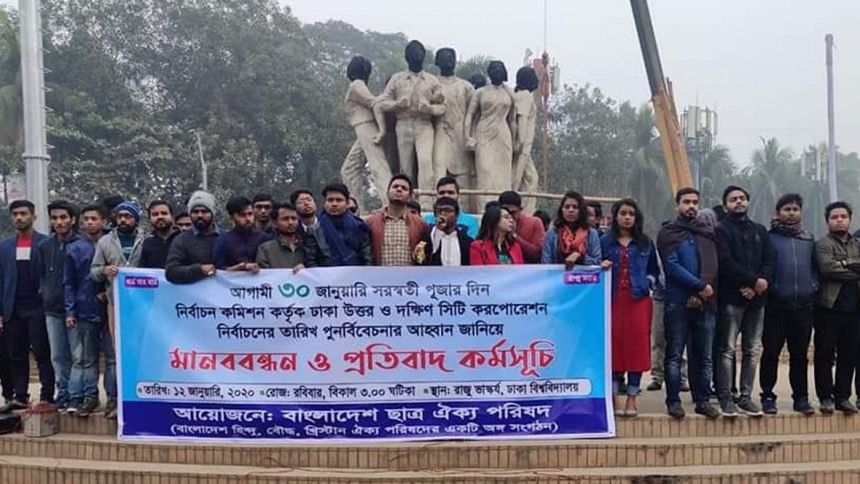 Bangladesh Chhatra Oikya Parishad today urged the Election Commission to hold elections to the Dhaka North and South city corporations on another date instead of January 30 as the Saraswati Puja will be observed on that day by the Hindu community across the country.
The student platform, a partner of Bangladesh Hindu-Bouddha-Christian Oikya Parishad, formed a human chain at the Raju Memorial Sculpture near Teachers-Students Centre (TSC) on Dhaka University (DU) campus, to press home their demand. 
Speakers at the human chain said that the Saraswati Puja, which is especially celebrated by students in all the schools, colleges and universities, will be held on January 29 and January 30.
The students in Dhaka would not be able to celebrate Saraswati puja smoothly as the city corporations will use these educational institutions as polling centres during the election, so the election date should be changed, they said.
It is a matter of sorrow that the members of the Hindu community would have to go to the polling centres on the day of worshipping their goddess Saraswati, said Saddam Hussain, assistant general secretary (AGS) of Dhaka University Central Students Union (DUCSU).
Vowing to build a non-communal Bangladesh, He urged the EC to review the students' demand to reschedule the election date.
Speaking at the programme, Utpal Biswas, vice president of the university's Jagannath Hall union, said that arranging election on the day of Saraswati Puja will create various problems including those of security and the Hindu community's worshipping of the goddess.
Saraswati, the goddess of education, is worshipped in different educational institutions, clubs, and offices in Dhaka, turning those into festival grounds during Saraswati Puja.