Speaking truth to power
Voices from the student protest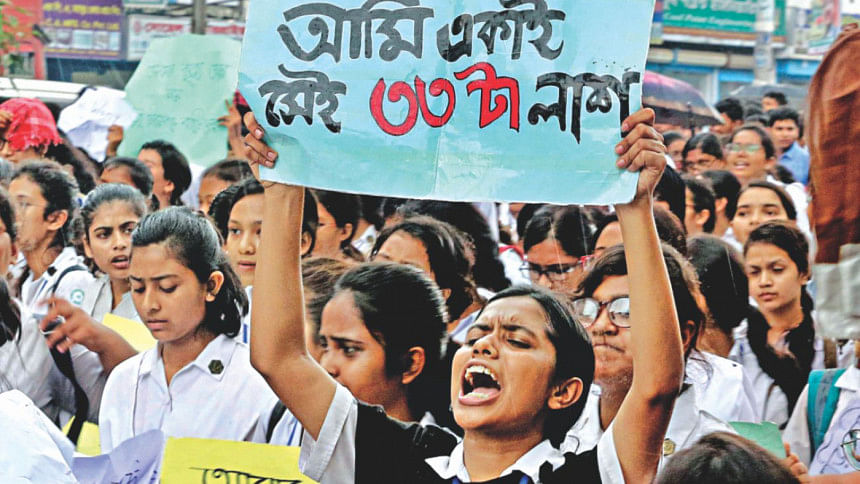 A nagging drizzle on a Thursday morning caused little deterrence for students from different schools and colleges, who streamed onto the streets of Shantinagar and adjacent areas.
Wearing uniforms of their respective institutions and steely resolve on their faces, they stood their ground on the streets -- like in the rest of the capital and many places across the country -- demanding safe roads and justice for two of their peers who were crushed under a bus on Sunday.
Marjan Mahbub, a student of Viqarunnisa Noon School and College, was joined by her classmates and peers in forming a tight-wound circle at Shantinagar intersection.
"We are not just demanding road safety. We are trying to ensure a safe future for ourselves and generations to come," said Marjan.
"I brought my daughter here as I believe we all should join the protest; it is for a right cause," said Marjan's mother Khadiza Begum, who accompanied her daughter to the protest.
However, not every student had familial support to join the demonstrations, as some parents were not approving of their children joining the protest out of concerns for their safety.
"Our parents were anxious that we might get in trouble if we joined the protest. But we just cannot stay at home and watch while our peers are protesting for a just cause," said a student of Notre Dame College, preferring to remain anonymous. 
At the Kakrail intersection, students of Willes Little Flower School and College also took to the streets around noon. They joined the congregation in groups, bringing their friends along to add more voices to the protest.
Shakil Ahmed, a student of Kamalapur School and College, said, "No one can bear the grizzly scene of the two young dead bodies on the roadside caused by reckless driving. I had to come here to join my brothers. "
While the students' activities caused inconveniences for commuters on the streets, many of them remained supportive.
"Such protest is the outburst of years of irregularities in transport sector. It needs to be stopped. I support the protest," said Md Shahriar, who was stopped by students. His driving licence was checked.
Not only college students, but university students also came out to the streets to stand by their juniors.
"If united, students can change the society. With these recent protests, they have shown how to question the authority and make them accountable for their actions," National University student Moumita told The Daily Star. She was helping school students in checking licences of vehicles.
Policemen were deployed in the area, but their overall attitude towards the students was friendly. This correspondent overheard an official telling his colleagues that it's not surprising that the students would raise the demands; bus drivers in Dhaka are indeed reckless.