Some NGOs shifting from fundamentals
Says London School of Economics professor citing difficult political environment, disruptive donor roles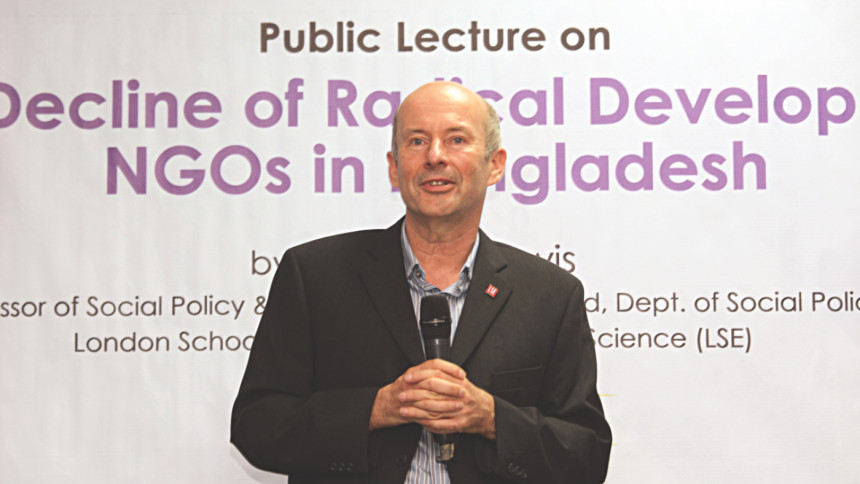 Difficult political environment, disruptive role of some aid donors and weaknesses in leadership and management contributed to a section of NGOs in Bangladesh moving away from their fundamental approaches, said a London School of Economics and Political Science (LSE) professor yesterday.
"NGOs such as Proshika, Gonoshahajjo Sangstha and Samata were at their peak during the 1990s and early 2000s. However, they have now mostly faded from view, or evolved into organisations primarily engaged in microcredit delivery work," said the professor, David Lewis.
The professor of social policy and development and head of social policy department was delivering a public lecture on "The Decline of Radical Development NGOs in Bangladesh" in the auditorium of the University of Liberal Arts Bangladesh.
Prof Lewis said he used the term "radical NGO sub-sector" because these organisations were, and in some cases still are, concerned with addressing the structural causes of poverty, gender equality and social justice.
Expressing concerns over the decline, Dr Lewis said the NGOs were concerned with grassroots rural social mobilisation approaches which were distinct from the more common NGO roles of credit delivery, services and contracting work.
He said the difficult political envirnoment made them vulnerable to co-opt while the donors' disruptive practices either neglected them in favour of more mainstream NGOs or over-funded them, creating rapid expansion that damaged and in some cases helped destroy them.
The leadership and management weaknesses reduced their accountability, he added.
Saying this decline was not however inevitable, he pointed out that an organisation such as Nijera Kori was still working effectively in the radical tradition.
This example shows that the radical NGO tradition is still possible if an organisation makes the "right" decisions -- keeping close the grassroots, building proper management systems, and resisting donor offers to over-expand and scale up too fast, he added.
ULAB Vice-Chancellor Prof Imran Rahman delivered the welcome address.