Siblings' death: Court allows cops to carry out DNA, chemical tests
A Dhaka court today allowed police to carry out DNA and chemical tests on the evidence of the two minor siblings, who might have been murdered in Dhaka's Banasree area on Monday.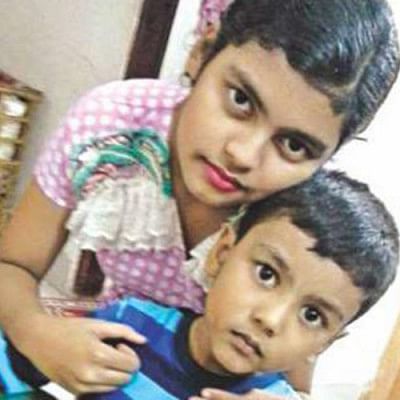 Metropolitan Magistrate Kazi Kamrul passed the order after Sub-Inspector Soumen Kumar Barua, also the investigation officer, filed a petition seeking permission for the tests to ascertain the cause behind their death.
Following the order, police will send samples of the leftover food and water brought from a Chinese restaurant for chemical test while the bed and pillow cover for DNA test.
Meanwhile, Rapid Action Battalion (Rab) is bringing the parents and an aunt of the siblings for questioning.
This morning, Rab went to Jamalpur, the ancestral home of the siblings and where they were buried, and picked them up.
"They are being brought to Dhaka for questioning," Lt Col Khandaker Golam Sarwar, commanding officer of Rab-3, told The Daily Star this morning.
Nusrat Aman Aroni, 14, and her six-year-old brother Alvi Aman were found unconscious at their apartment in Dhaka's Rampura area last Monday, said Mohammad Amanullah, father of the victims.
It was initially believed that the children died from food poisoning before autopsy suggested that the victims might have been murdered. There were bruises on their bodies.
READ MORE: Murdered, autopsy suggests
A case is yet to be filed over the matter, according to Rafiqul Islam, officer-in-charge of Rampura Police Station. "Police will lodge a case if the family doesn't."
No one has been arrested over the incident. Five people have been picked up for questioning which includes a female tutor, family relatives and security guards of the apartment.
A Rab team, led by Additional Superintendent Mostaque Ahmed, called the residence of Abul Malek Sarkar, the grandfather  of the deceased children, in Iqbalpur of Jamalpur town, our local correspondent reports.
They picked up Mohammad Amanullah, father of the children, his wife Mahfuza Malek Jesmin, and an aunt Afroza Malek Nila around 11:10am, said Solaiman, a cousin of Amanullah.
Police will also interrogate them over the incident, said OC Rafiqul Islam.