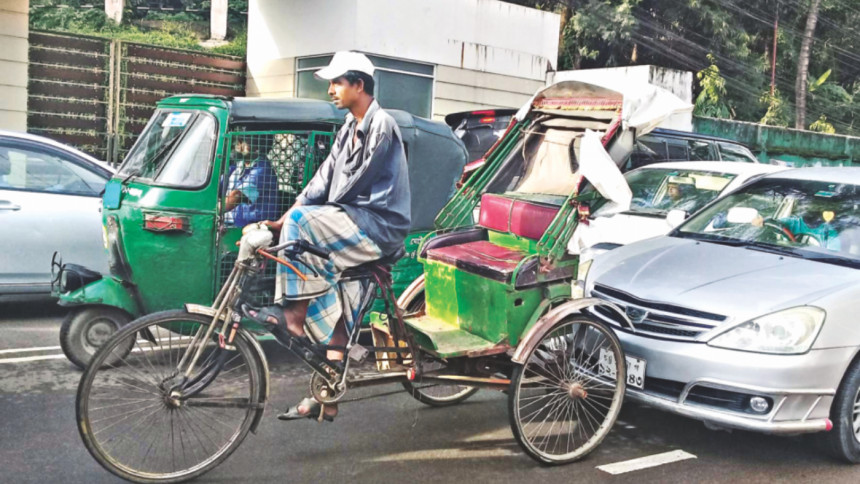 When he was around 15 years of age, he broke his left hand falling from a tree. Eventually, the entire arm had to be amputated due to fungal infection. 
After this tragedy, he could have ended up on the street begging for alms.  
But the disability could not stop Mohammad Jashim, hailing from Raozan upazila in Chittagong, from being a self-reliant person. To eke out a living, he started pulling rickshaw -- a work he has been doing for the last 25 years to support his family.     
Jashim, now 47 years of age, started unfolding the story of his life -- a story of struggle and self-esteem, during a conversation with this correspondent recently.
Despite the accident, Jashim, who lost his father when he was eight, said, he did not lose hope but prepared himself to accept what life offers him in the days to come. Then he decided to come to the city. But making a living without an arm was not that easy for him. 
"First I started to work at a signboard-painting shop in the city's Chawkbazar area. However, I could not continue this job…," said Jashim.     
Frustration engulfed him for a while but he never thought of earning in the easiest possible way. Realising his own limitation, he finally decided to pull rickshaw -- a tough call to make back then, he said.      
Jashim got married at the age of 25, and currently lives in Bakalia Kalamia Bazar area of the port city. In spite of his continued struggle, he made sure that his two daughters and a son get education. 
"My elder daughter is a graduate student. My second daughter is studying at class X. And my son is a class VII student," said the proud father, adding, "I am the person who has to maintain everything."  
Asked how he managed to pull rickshaw by one hand all these years, Jashim said, "I pulled paddle-driven rickshaw earlier. It was not easy, you know. But I have started to operate battery-run rickshaw since 2012 when such rickshaw hit the city streets for the first time." 
"Operating battery-run rickshaw is a bit comfortable as it needs less physical labour compared to the paddle-driven one," he said.
"I earn about three to four hundred taka daily and run my five-member family somehow," added Jashim with a satisfied smile on his face.
Asked about the expectation of life at this juncture, Jashim said he has nothing to expect from anyone. But he has a dream -- a dream that his daughters and son will someday be educated and become self-reliant persons in their own ways taking lessons from his life.