Safe vegetables at low cost
Pest exclusion net trial in Mymensingh shows promise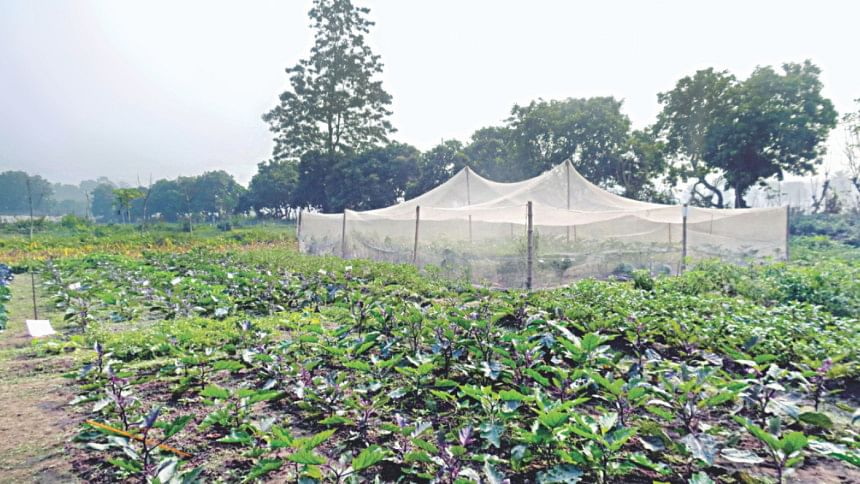 Chemical-free fruit and vegetables are just what the doctor ordered. But the advantage of organic produce extends beyond public health. Now in its fourth season, an ongoing study by the Bangladesh Agricultural University in Mymensingh is demonstrating that the use of pest exclusion nets in place of pesticides offers environmentally-friendly, effective crop protection. In addition, as nets are relatively inexpensive farmers save on production costs.
"We first tested the nets on fifty vegetable plots in May 2016, with a variety of crops included such as brinjal, tomato, capsicum, cabbage and okra," says Prof Dr Md Abdur Rahim who is leading the five-member research team. "Results thus far have been promising; and for farmers the nets are cheaper than pesticides."
"On average, on 10 decimals of land a farmer would spend around Tk 2,000 on pesticides per season," the scientist explains. "Pest exclusion nets would cost about Tk 250."
Before reaching the marketplace, a basic crop like brinjal would need to be sprayed with pesticide up to 60 times to effectively protect it from pest attack. In alleviating the need for pesticides altogether, the human health and environmental gain from using nets is considerable, Dr Rahim adds.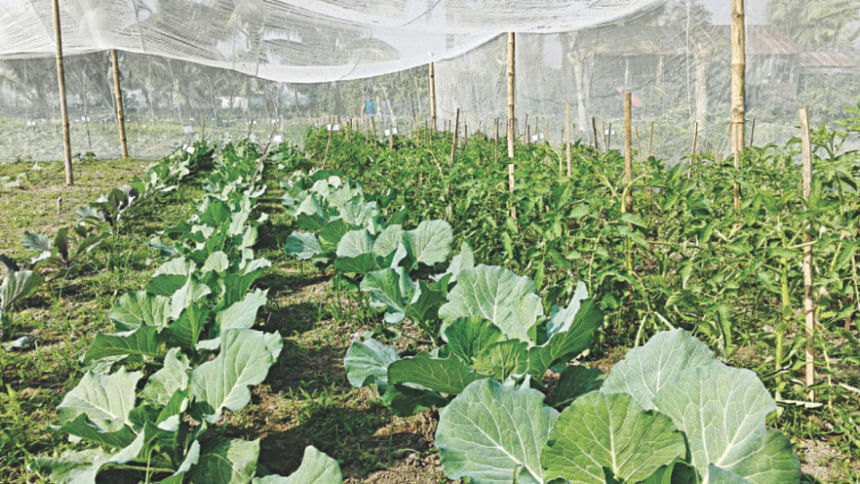 "Pesticide pollution has already reached a critical level in the environment," says Israt Jahan, another scientist from the team who specialises in capsicum production. "Pest exclusion nets have great potential to prevent future environmental degradation."
Currently the team has turned their attention to fruit, especially mangoes and litchis. They hope suitable nets will be available for orchardists from next summer. At the same time, green, blue, yellow and white nets are being tested to determine which coloured nets best deter insect pests.
The research is being funded by USAID and development organisation Winrock International.