Another RU teacher killed brutally
Students protest on campus, block highway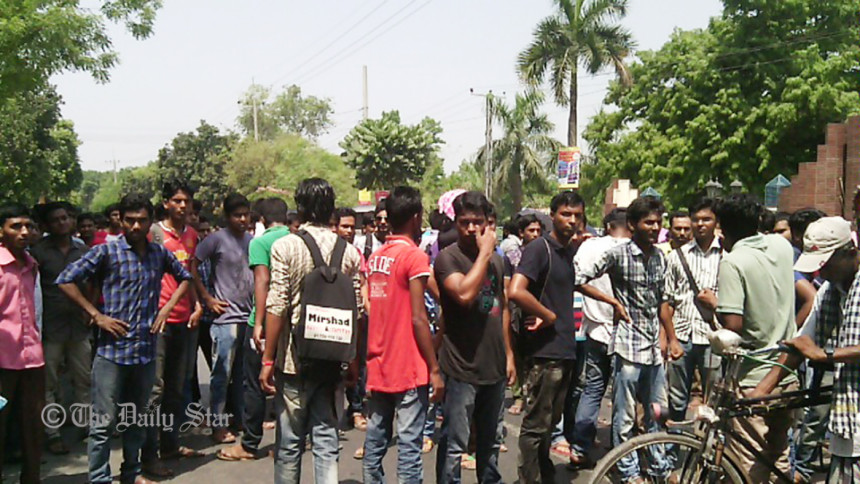 Miscreants killed a professor of the English department of Rajshahi University in Shalbagan area of the city this morning.
AFM Rezaul Karim Siddiquee, 58, was waiting for university transport at Battola intersection at 7:40am when he came under the attack, Sushanta Chandra Roy, assistant commissioner of Rajshahi Metropolitan Police, told The Daily Star.
Several persons swooped on Prof Siddiquee from behind with sharp weapons, leaving him dead on the spot, he said.
READ MORE: Lalon-loving RU teacher killed
Protesting the killing, RU students blocked Dhaka-Rajshahi highway for 45 minutes from 10:15am, halting transport movement. They also staged demonstration in front of the RU main gate on the highway at Binodpur in the city.
Informed, police rushed there and cordoned off the crime scene.
The law enforcers have yet to identify any of the killers. They could not say anything immediately about the motive of the murder.
"My father had no personal enemy," Riyasat Imtiaz Sourav, son of Prof Siddiquee, said while talking to reporters.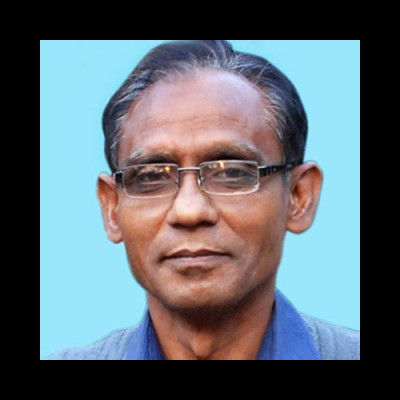 Expressing doubt over getting justice, Sourav said, "Whoever did this, I just want justice after proper investigation."
ALSO READ: 8 JMB men charged with Prof Yunus murder at RU
Siddiquee joined the RU English department in 1983.
A guitarist, Siddiquee was adviser and founder of two cultural organisations --  Arony Sangskritik Sangsad and Kamal Gandhar -- respectively.
On November 14, 2014, unidentified criminals hacked another professor, AKM Shafiul Islam, to death near his house in Choddopai area, on the outskirts of the city.
PROFILE of PROF SIDDIQUEE
Born in 1955 in Bagmara upazilla of Rajshahi, Siddiquee completed his graduation and post graduation from RU English department in 1976 and 1977 respectively.
He served at Faridpur Government Rajendra College as lecturer from 1981 to 1983. Later, he joined as a lecturer at RU English department in 1983. He also achieved PhD degree in 2000 and served as chairman of the department from 2001-04. He was elevated as Professor in 2006.
He left behind his wife Hosne Ara Sheera, son Sourav and daughter Rezwana Hasin Shatobi.
Sourav is a final year student of civil engineering department of Rajshahi University of Engineering and Technology (RUET) and Shatobi has completed her post graduation from RU English department this year.
He was the adviser two cultural organisations -- Arony Sangskritik Sangsad and Sundaram -- and also the founding editor of Kamal Gandhar, a cultural based magazine. He also had skills to play musical instrument like Setar.