Quota: Legal notices issued to DU, RU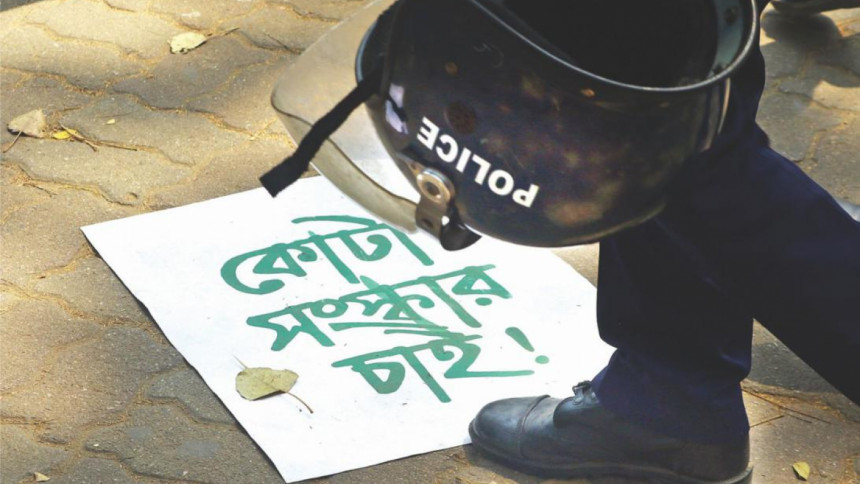 Legal notices were issued to Dhaka University and Rajshahi University authorities today seeking what actions have been taken against Chhatra League men over attack on quota reformists.
Thirteen Supreme Court lawyers issued two notices seeking an answer in 24 hours, threatening legal actions if they do not inform in black and white about the actions taken so far.
Vice-chancellors, proctors and registrars of Dhaka University and Rajshahi University were made respondents to the legal notice.
The SC lawyers served the legal notices on behalf of DU students Md Faruk Hasan, Md Moshiur Rahman, Jasim Uddin and Rashed Khan and RU student Tariqul Tarek, who were tortured and injured on their respective university campuses during students' demonstrations demanding quota system reformation in civil service.
The lawyers are – Hasnat Quaiyum, Anwar Hossain Reza, Kazi Zahed Iqbal, Aneek R Haque, Khandakar Shishir Shakir, Aynunnahar Siddiqua, Abeda Gulrukh, Humayun Kabir, Jyotirmoy Barua, Reza Islam Reaz, Ariful Haque Rokon, Fariya Ferdous and Belayet Hossain.
Citing from the legal notices, Hasnat Quaiyum told The Daily Star that Chhatra League activists attacked and tortured the quota reformists at Dhaka University and Rajshahi University.
Such reports were published on the incidents in electronic and print media with photographs and video clips, but the administrations of the universities have not disclosed what actions have been taken against the perpetrators, he added.