Publisher murder: Aziz Super Market to remain closed till tomorrow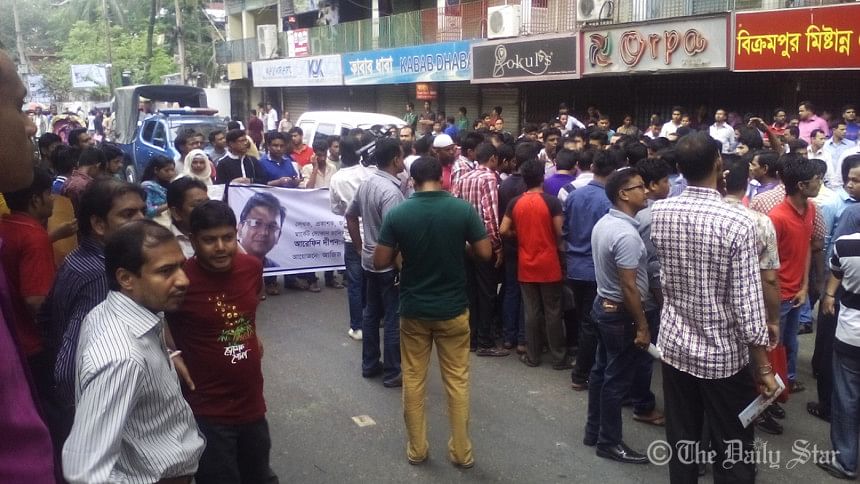 Aggrieved by the brutal murder of one of their colleagues, book shop owners and businessmen of Aziz Cooperative Super Market in Shahbagh will keep their shops closed till tomorrow.
At a demonstration rally in front of the book market where new generation of writers and readers gather, the leaders of businessmen declared that the shops will remain closed today and tomorrow in protest against the killing of Faisal Arefin Dipan, owner of Jagriti Prokashani in Dhaka.
Chanting slogans, around 200 demonstrators came down to the Elephant Road near to the Shahbagh intersection and started the rally at Shahbagh around 12:30pm, which continued for 20 minutes, halting transport movement.
The killers of Dipan should be brought to justice, Kamal Hossain, treasurer of Aziz Cooperative Society Ltd.
In one of the slogans – "Amar bhai morlo keno? Proshashon jobab chai" -- they demanded an explanation from the authorities on the murder.
The publisher was found stabbed dead yesterday at his publishing house office situated on the second-floor of the Aziz Market hours after assailants stabbed Ahmedur Rashid Tutul, proprietor of Shuddhoswar.    
On the same day, Tutul along with Ranadipam Basu and Tareque Rahim came under the machete attacks at the Lalmatia office of Shuddhoswar. Tareque was also shot in the chest.