Proshanta's solo exhibit opens at Gallery Cosmos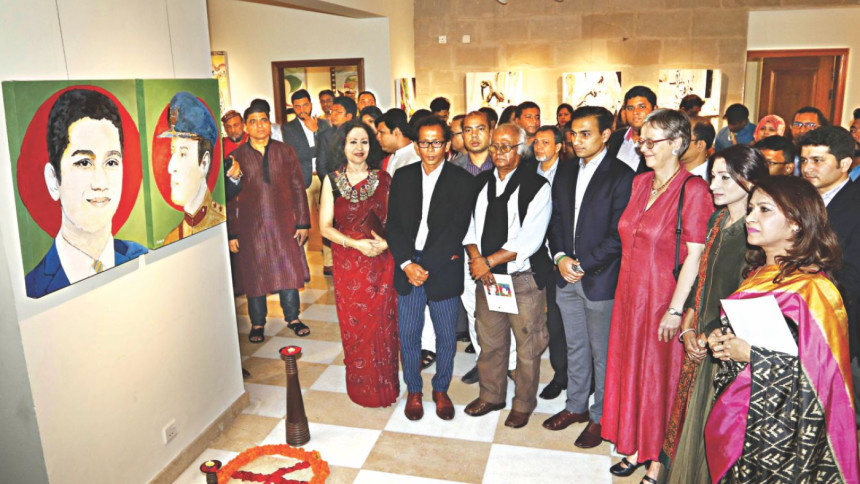 A ten-day solo art exhibition titled, "PEACE", by multi award-winning artist Proshanta Karmakar Buddha began yesterday at Gallery Cosmos in the capital's New DOHS.
The exhibition has been dedicated to Brigadier General Shaheed Jamil Uddin Ahmad (Bir Uttam) and Faraaz Ayaaz Hossain.
Simeen Hossain, mother of Faraaz, inaugurated the event as the chief guest. Sidsel Bleken, Norwegian ambassador to Bangladesh, and renowned art critic and architect Rabiul Hussain were present as special guests.
Mario Palma, Italian ambassador to Bangladesh; Enayetullah Khan, chairman of Gallery Cosmos; Tehmina Enayet, its director; and Zaraif Ayaat Hossain, Faraaz's elder brother, spoke on the occasion.
Proshanta's paintings have been exhibited in his previous 28 solo and 95 national and international group exhibitions.
He received several national and international awards, such as the 1992 "Honourable Mention" at a competition under Alliance Française de Dhaka; the 1991 Okamoto Prize by Asian Cultural Centre for Unesco in Tokyo; the 1990 Best Award on printmaking at the 9th National Young Artist's Exhibition at Bangladesh Shilpakala Academy; and five awards in 1989-90 from the Bangladesh Photographic Society.
The exhibition, organised by Gallery Cosmos, will remain open from noon to 8:00pm daily till December 17.c