Prof Anisuzzaman a lighthouse
Speakers tell documentary screening marking his 80th birthday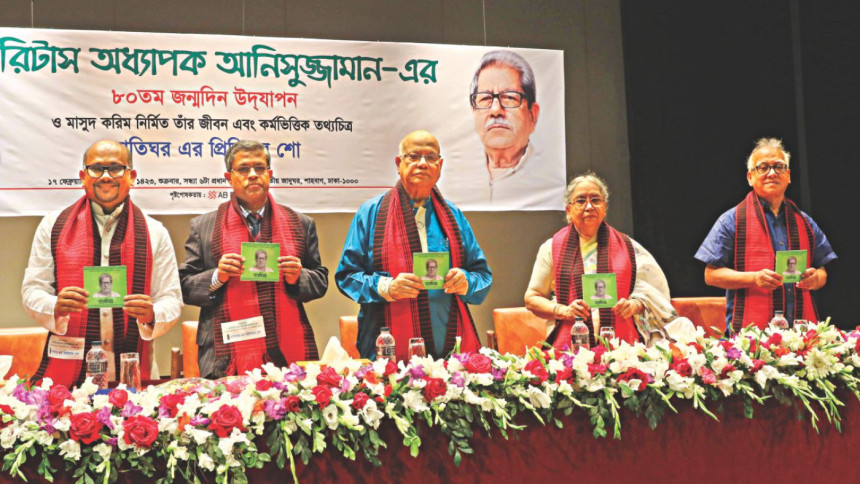 Prof Emeritus Anisuzzaman is a lighthouse for the nation, said speakers yesterday at the screening of a documentary based on the noted educationist's life and work marking his 80th birthday.
Organised by Masud Karim, convener of Bangladesh Documentary Filmmakers Association, the screening was held in the auditorium of Bangladesh National Museum. 
The 45-minute documentary titled "Batighar" is made by Masud.
"His (Anisuzzaman) speeches, even if it is two or three minutes long, motivate the audience to think deeply," said Finance Minister AMA Muhith. "All the things he had done for the nation cannot be forgotten."
Dr Pabitra Sarker, former vice chancellor of Rabindra Bharati University, said, "Prof Anisuzzaman is one of the history makers. He took part and led a number of cultural revolutions to change the society."
"Like a lighthouse, he always guided the nation…," said Muhammad Abdul Mazid, former chairman of National Board of Revenue.
Because of illness, Prof Anisuzzaman could not attend the screening but sent a recorded speech thanking all. His wife Siddiqua Zaman, however,  attended the programme.
In separate messages, Prime Minister Sheikh Hasina, Information Minister Hasanul Haq Inu and Indian actor Soumitra Chattopadhyay, among others, wished him.