PM hopes for 100pc literacy rate soon
She addresses 75th founding anniversary celebration of Madan Mohan College, Sylhet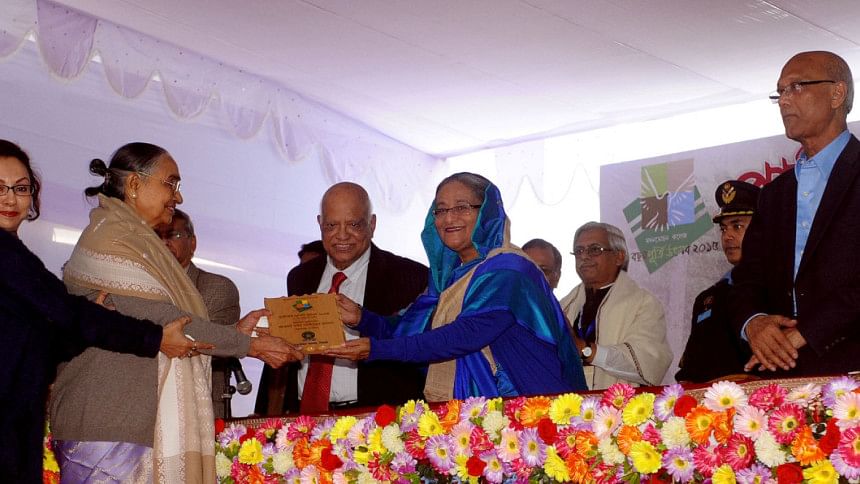 Bangladesh will soon achieve 100 percent literacy rate, hoped Prime Minister Sheikh Hasina yesterday.
"The country has already attained 71 percent literacy rate thanks to various pragmatic steps of our government. ...establishing a hunger- and poverty-free Bangladesh is not possible without an educated nation," she said while addressing the platinum jubilee celebration programme of Madan Mohan College in Sylhet.
The prime minister called upon the well-off of society to come forward to further develop the country's educational institutions to achieve 100 percent literacy rate.
Bangladesh got Unesco Literacy Award in 1998 in recognition of the huge achievement, she said.
Hasina said her government had taken various measures to make the country's education system time-befitting and science- and technology-based one.
"We want to ensure quality education for all. That's why we've given priority to science- and technology-based education and our government during 1996-2001 took measures to establish 12 science and technology universities," she said.
A medical university will be established in Sylhet as per a government plan to set up such institutions in each divisional headquarters, she promised. The prime minister hinted at nationalisation of Madan Mohan College following the demand of the city poeple. The premier was on a daylong visit to Sylhet to join the platinum jubilee celebration of the college and inaugurate and lay the foundation stones of 22 development schemes.