Gondamara Power Plant Construction
Joint force at site
To oversee security, takes note of locals' complaints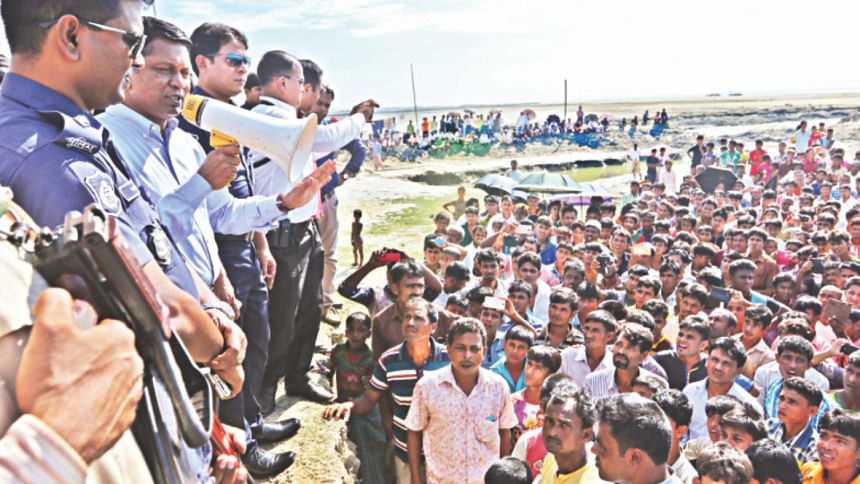 A joint force has taken over the responsibility of ensuring security of a proposed coal-fired Gondamara power plant financed by China in Banshkhali upazila of Chittagong yesterday.
The 1,320MW power plant which is being constructed in 600 acres of land is a Tk 20,000 crore project.
While addressing a gathering of 400 locals of Gondamara in the morning, Director of Naval Intelligence Commodore M Sohael said a contingent of joint force comprising Bangladesh Navy, Coast Guard, police, Rapid Action Battalion, Border Guard Bangladesh would soon be deployed in the project area for the plant's security.
"It is not a personal power plant. The Bangladesh government undertook the project for the people's interest and handed the responsibilities of its security over to the joint force. Latest equipment and technology will be used in the project keeping an eye on the people's safety and environment," said Soheal.
Describing what happened earlier centring its construction as unfortunate, he said the locals would get proper compensation, and none would be spared.
On April 4, four people were shot dead in a clash between law enforcers and locals in the area during a rally protesting the power plant.
The navy official, however, mentioned that two complaint centres would be set up.
Everybody could submit their complaints to the centres, he said, adding, "After the constructxion of the plant, infrastructures in the area will rapidly improve."
A police outpost has already been set up and a good number of Ansar members are now deployed there, Emran Bhuiya, additional superintendent of Chittagong district police, told journalists after the gathering. 
When visiting the site, navy and police officials also took note of their complaints and demands.
Abu Ahmed, a resident, demanded that the cases lodged against the locals after the April 4 incident be withdrawn and proper compensation be given to them.
Estate Manager Mostan Billah Adil of S Alam Group told The Daily Star that sand filling will start shortly after a soil test. S Alam Group and SEPCO3 Electric Power and HTG of China will set up the power plant.