No red meat on menu today
Traders go on strike over 'excessive tax'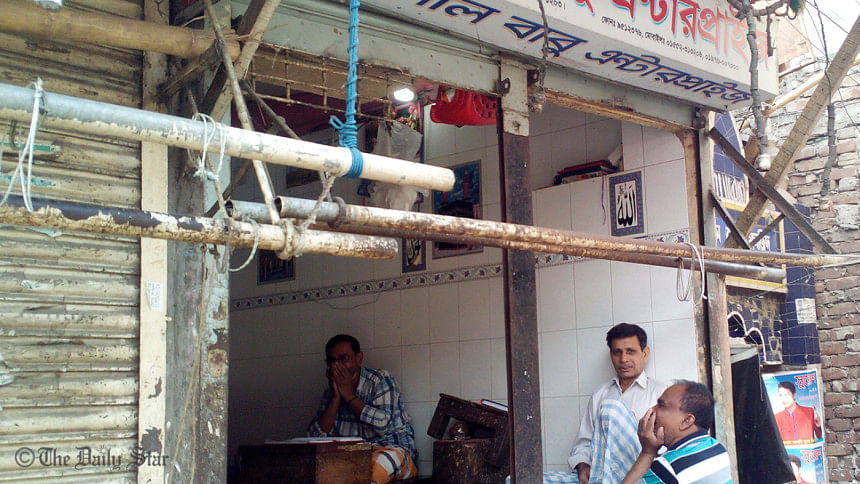 For patrons of Mollah Hotel in Dhaka's Gulisthan, the menu will have no spicy beef curry or beef khichuri today.
On the first day of the six-day strike called by meat traders in the capital, many hotel owners and customers are suffering as no cow has been slaughtered here since last night.
Meat traders went on the strike from today, demanding a stop to "excessive tax collection" by the lessee in the city's only permanent cattle market at Gabtoli.
Read More: No red meat for six days
Each day about 20 kilogrammes of meat is served at the Mollah Hotel, according to its owner Mohammad Moin.
Extra chicken was brought to compensate for the unavailability of red meat, Moin told our correspondent who was visiting some of the big kitchen markets and hotels in the city.
In Kaptan Bazar, one of the busiest kitchen markets in south Dhaka, gates were clasped shut at the slaughter house. Each day about 50 cows are slaughtered here, however today operations came to a stall owing to the strike, a representative of the Meat Traders, Mojibor, said.
Asgar Ali, owner of Asgar Enterprise, said despite having a valid license, the government taxes are not maintained if the cow is priced just over Tk 50,000.
Meanwhile, at super shops Meena Bazar and Shwapno, there is both beef and mutton on sale. The beef is priced at Tk460 per kg and mutton Tk690 per kg at Shwapno, while at Meena Bazar beef is Tk 465 per kg and mutton is Tk719 per kg.
Robiul Alam, secretary general of Bangladesh Meat Merchants' Association, claimed that the lessee of the Gabtoli Cattle Market is collecting tax from meat traders at rates meant for buyers other than the traders.
The traders have been paying between Tk 200 and Tk 5,000 in tax for each animal over the last nine months, and most of them could not make profit due to "excessive tax collection" by the lessee, he alleged.