Niloy murder: 14 wounds of 'familiar style'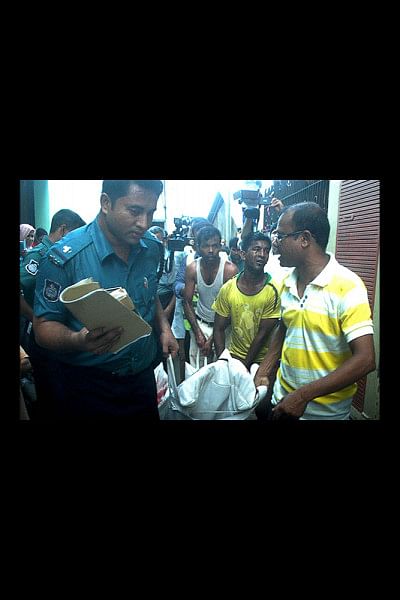 Blogger Niladri Chattopadhyay Niloy was chopped 14 times in a style similar to the previous killings of bloggers and online activists in recent months, autopsy report says.
The ferocity of the strikes was such that some of the cuts sliced through Niloy's bones.
Dr Habibuzzaman Chowdhury, chairman of Dhaka Medical College Hospital's forensic department, made the findings public to the media today.
Niloy's body bore around 14 hack wounds – four of which were on the neck. "He died on the spot resulting from excessive blood loss from his wounds".
The body was handed over to Niloy's family after autopsy around noon today.
Four assailants, armed with cleavers, posed as potential tenants and tricked into the Goran residence of Niloy before hacking him to death in his bedroom yesterday afternoon.
The responsibility of the murder was claimed in advertisement style – press release forwarded to almost all media outlets – by a group Ansar Al Islam (AQIS Bangladesh Branch).
The 28-year-old writer was allegedly denied police help a few days before his death when he sought protection after noticing people following him home.
This was the fifth blogger killing starting from the murder of Rajib Haider in February 2013 – none of which has seen justice ensured to the perpetrators.
The murder has drawn condemnation from all around the globe including from the United Nations, United States, United Kingdom and rights body Amnesty International.
Last night, Niloy's wife filed a lawsuit accusing four anonymous assailants over her husband's death. However, after 24 hours in the passing, no one was arrested until this report was filed.
Earlier on February 26 this year, writer Avijit Roy was murdered at Dhaka University. He had just come home from abroad to attend Ekushey Book Fair.
In quick succession, Oyasiqur Rahman Babu was murdered in Dhaka and Ananta Bijoy Das in Sylhet on March 30 and May 12 respectively. All the murders were blamed on religious fanatics.