Ridesharing on Motorbikes
Is the ban proving counterproductive?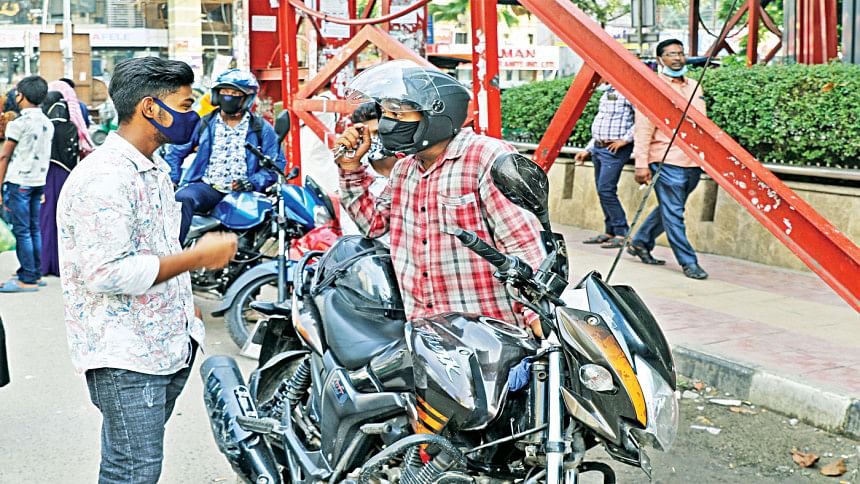 Despite suspension of ridesharing services via motorcycles due to health safety concerns, bikers can still be seen with their vehicles parked at intersections in the capital, waving to potential passengers, and with some success too, as many commuters still choose the verbal-contract service despite the risks associated.
As of the end of 2019, over one lakh motorbikes were operating under 16 services, according to data provided by the services to the regulators.     
Following suspension of all ridesharing services during the countrywide shutdown in March to contain the spread of Covid-19, Bangladesh Road Transport Authority (BRTA) allowed ride-sharing via cars a month ago, on condition that the vehicles be enlisted with the regulator. It continues to maintain a ban on ridesharing motorcycles due to the risk of spreading coronavirus.
But the clandestine operation of offline ridesharing is not just a concern about health safety.  
Technology used in ride-sharing apps provides layers of security, like tracking routes and keeping records of riders and passengers. Bypassing the apps, bikers and passengers alike are at risk of incidents like mugging,
This newspaper spoke to dozens of riders and passengers in Dhaka who are providing and availing the service.
Most bikers expressed their anxiety over the safety issue, but said they cannot stop operations as they have no other way to earn a living.
Zakir Hossain was seen eagerly waiting for a passenger at the busy Paltan intersection. When this correspondent approached him, Zakir asked him whether he needed a ride.
"The ban is active, but I have no other way to earn money. Since we're not using the app, I always feel anxious, especially after evening. I fear a mugger posing as a passenger may snatch away my income, and maybe even hijack my bike," he said.
Abu Syed used to work at a private organisation but started providing rides full-time after losing his job during the pandemic.
He used to earn Tk 1,200-1,500 a day before the pandemic, when he occasionally provided rides. But now, he hardly earns Tk 500 daily, he told this newspaper while looking for a passenger at Moghbazar.
"Before, we didn't have to sit at the intersection and ask people to get on, but the situation is different," he said.
Passengers, like the riders, have similar fears regarding security.
"If you want to save time, there's no alternative to motorbikes on busy Dhaka roads," said Monir Hossain, a construction materials supplier, who uses bike-sharing frequently to reach clients and construction sites in time.
"I try to be cautious in choosing my rider. I take services of those who seem trustworthy, as I always carry money with me," he said. "But until the authorities lift the ban, we must use the informal way."
Humayun Kabir, a freelancer, said he would roam around the city using ride-sharing apps, carrying his laptop, camera and other valuables, but never felt unsafe. However, due to no logs and tracking of rides, he hardly uses such modes of transport now.
Both riders and passengers said they hope the ban will be lifted soon.
Contacted, BRTA Director (Engineering) Lokman Hossain Mollah said, "Those doing this are risking their lives. On top of Covid-19, people can be victims of crime."
About the ban, he said they do not have a definite timeline to lift it, and have to follow the cabinet's decision.
As for the loss of livelihood, he said, "It is just an unfortunate situation; they are not the only ones suffering. Many in different sectors have become jobless. Besides, ridesharing should be part-time work, something to do to earn extra income."
"Regardless, putting one's health in danger to earn a living should not be encouraged," he added.
Pathao, a major ridesharing service provider, views the whole situation differently.
"We do not think a continued suspension of ridesharing and punitive action against offline trips will be effective in curbing the spread of Covid-19," said Sayeda Nabila Mahabub, the company's marketing and public relations director.
Pathao is prepared to ensure health, safety and hygiene, if it is allowed to resume bike trips, she said.
While Pathao has complied with BRTA instructions, they are concerned to see ridesharing on two-wheelers continue informally, she added.
"This clearly demonstrates that the suspension has proven to be ineffective. We call upon BRTA to immediately allow full resumption of ridesharing services," she concluded.
Meanwhile, traffic police officials at different intersections of the capital opined that although carrying passengers on motorcycles commercially is currently not allowed, they do not harshly enforce it on humanitarian grounds.
Besides, when officers ask riders whether they are informally providing rides, they say the passenger is their relative or neighbour.
A traffic sergeant, seeking anonymity, said, "Covid-19 has made many jobless. If they can earn bread for their family this way, then why should we stop them? In the first few days, we would intervene. But later I realised that they all have a similar story. If they don't do this, their families would starve, so now we let them go." 
[Tuhin Shubhra Adhikary contributed to this report.]