Taherpur temple to celebrate Durga Puja with Ashtadhatu idols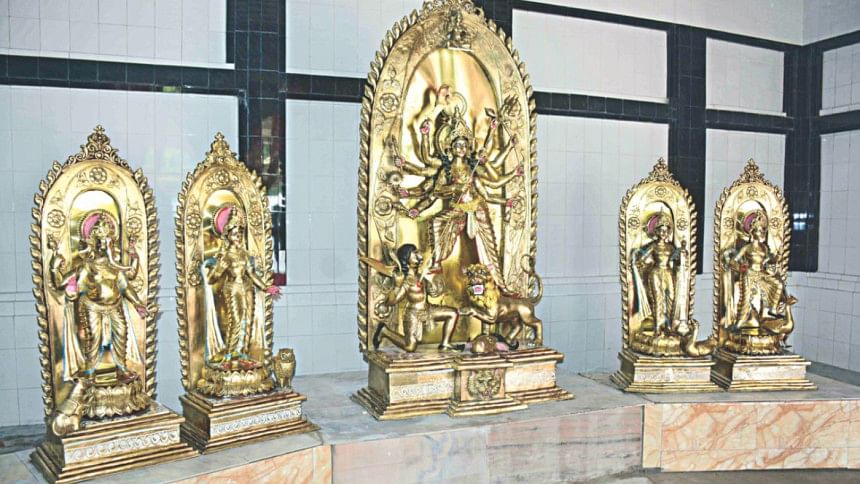 Devotees of Rajshahi and beyond will be in presence of magnificent idols of deities made of Ashtadhatu this Durga Puja, as the Taherpur temple of the district has commissioned idols made of the metal alloy considered sacred by Hindus.
A total of seven idols of Hindu deities, including Durga and her four children, have been crafted for the temple using around a tonne of Ashtadhatu at a cost of around Tk 22 lakh, said Anil Kumar Sarker, general secretary of Rajshahi District Puja Udjapan Parishad. Lawmaker Enamul Haque from Rajshahi-4 constituency (Bagmara) sponsored the initiative, he added.
Ashtadhatu is made of eight metals – bronze (which is an alloy of copper, tin and zinc) along with gold, silver, lead, iron and antimony.
"We believe that Ashtadhatu brings health benefits and mental peace," Sarkar said.
Long ago, only wealthy and higher-caste Hindus celebrated Durga Puja at their households. In 1480, King Kangsa Narayan of Taherpur first organised Durga Puja for all castes in the sub-continent, said the parishad's President Birendranath Sarker.
On Monday, the Hindu community celebrated Mahalaya, the auspicious occasion heralding the advent of goddess Durga. Mahalaya is observed seven days before Durga Puja, the biggest religious festival of the Bengali Hindu community. On October 15, Durga Puja will begin, on the day of Maha Shashthi.
This year, a total of 3,445 puja mandaps (altars) have been set up in eight districts of Rajshahi division, Deputy Inspector General (DIG) Khurshid Alam of Rajshahi range, said in a press conference recently.
Of them, Naogaon has the highest number of mandaps (792), followed by Bogra (665), Sirajganj (493), Natore (371), Rajshahi (362), Pabna (340), Joypurhat (290) and Chapainawabganj (132).
Compared to last year, 120 more mandaps have been set up in the region, he added.
The DIG also held a meeting with the leaders of Puja Udjapan Parishad and superintendents of police of the eight districts to ensure all-out security during the festival.
Special security measures have been taken in Maroaripara of Pabna's Ishwardi, where Durga idols are made of gold.
This year, Barogharia in Chapainawabganj has a special attraction of 22 idols of different avatars of Durga, while Naogaon's Shibpur puja celebration is featuring 53 dhak (big drums), according to the parishad leaders.