Readers scope out catalogues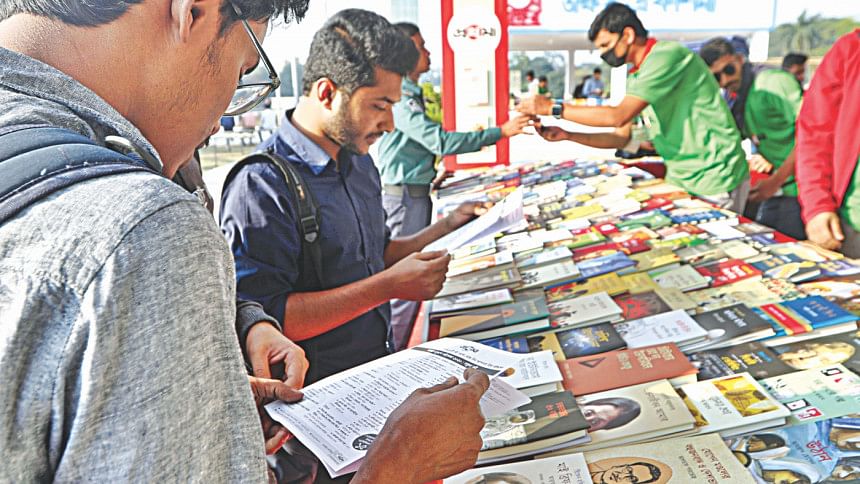 Enthusiastic publishers -- with catalogues of their new titles -- are all set to welcome bookworms at the Amar Ekushey Grantha Mela 2020, as the book fair was seen warming up to visitors in its second day yesterday.
After the fair gate opened at 3pm, some booklovers were seen collecting lists from different publication houses and discussing with friends what to buy this year.
"I am yet to buy any book, because the fair has just started; I collect catalogues first and later buy books accordingly after selecting from these lists," Fabian, a third-year student of a private university, said.
According to the Bangla Academy sources, a record number of 560 organisations have set up stalls for the fair -- on Bangla Academy and Suhrawardy Udyan premises -- this year.
Besides a rise in publishing houses, the number of new books has also been increasing at the fair over the years. In 2014, the number was 2,959, which rose to 4,284 last year, according to fair sources.
Nonfiction "Bhindeshi Tara" by Md Jahidul Islam is available at Alokayan publication (stall-566) at Shurawardy Udyan premises. The book focuses on various aspects of the quota reform movement, safe road movement, Rohingya crisis and stories of rape victims, said the writer.
Like everey year, books by young writers have arrived at the fair early. "Chandralekha" by Abdullah Al Imran and "Meghdubi" by Kingkor Ahsan are available at Annesha Prokashon (stall-33) on Suhrawardy Udyan premises.
"My novel is set against the rural background of the country's south" Imran told The Daily Star.
Prothoma Prokashon is bringing a total of 100 new books this year, including "Manobadhikar" by Asif Nazrul, "India-Pakistan-Bangladesh: A primer on political History" by Nurul Islam, "Ekusher Shaheed" by Anisul Hoque and the English translation of Sareng Bou -- titled "A seaman's wife" by  prominent novelist Shahidullah Kaiser, salespersons at the stall said.
Delwar Hossain (35), employee at a private company, said he bought a book titled "Bangabandhu: The Luminous Ascetic of Midnight" from Agamee Prokashoni.
The publisher said they have published 163 books including fresh and reprinted books this year.
Meanwhile, a total of 37 books arrived at the fair yesterday.