Disability Rights in Bangladesh: Lack of data hampering progress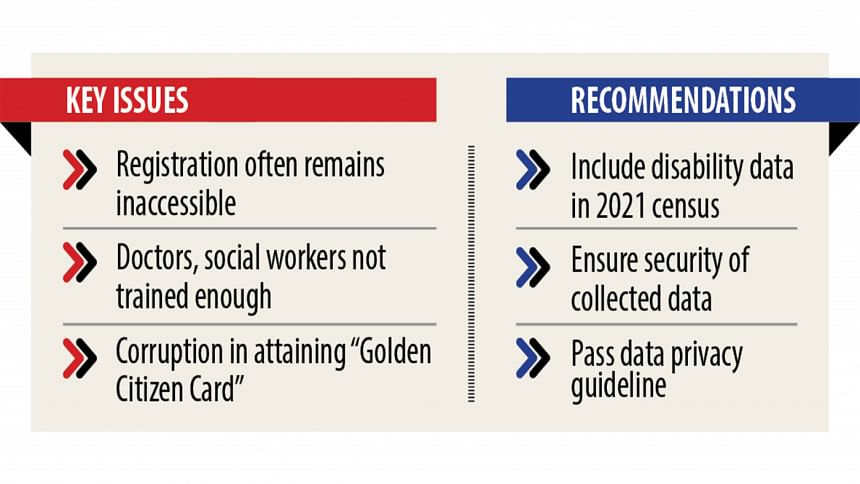 How many people with disabilities are there in Bangladesh?
Seven years after passage of Rights and Protection of Persons with Disabilities Act, 2013, the answer to this question is still ambiguous.
The Department of Social Services (DSS) has been conducting a disability detection survey since 2013 and identified 21,43,357 people with disabilities all over the country till February 3. It is around 1.19 percent of the total population.
Experts say the data does not reflect the exact number of people with disabilities in the country. There are also reliability and validity issues with the data, they added.
Of the total, 13,16,894 are male which is 61 percent of the total population, and 8,23,855 are female, which amounts to 38 percent. Transgender people with disabilities account for one percent of the total population, with the number being 2,608.
The DSS identified 4,65,693 children with disabilities, 21.72 percent of the total population.
"Our team in every upazila diagnoses them according to degree, type and severity following the guidelines of International Classification of Functioning Disability of World Health Organization. Every team has a doctor for this purpose," Dr Ashrafi Ahmad, programme director, disability detection survey program, told The Daily Star.
"After registering them, we are distributing ID cards denoting them as Golden Citizen. They are entitled to receive disability allowances and they also get priority to receive other benefits from the government," said Ashrafi, also a joint secretary of the social welfare ministry.
AHM Noman Khan, executive director, Centre for Disability in Development (CDD), does not think the identification survey reflects the prevalence of people with disabilities in the country.
"Because in most places disabled people have to visit the local administration offices to register themselves as disabled, which they often cannot do because of many reasons such as poverty, inaccessibility, distance etc. As a result, there is no doubt that many disabled people are still left unidentified," he said.
There are also reliability issues with these data, he added.
"Doctors and social workers who register people with disabilities are also not trained enough to distinguish between five types of neurological development disorders which require specialised knowledge on disability," said Noman, a Ramon Magsaysay awardee for mainstreaming persons with disabilities.
About the training, Dr Ashrafi commented, "The doctors are appointed by the health ministry. We give a short, introductory training on disability before deploying them. So, we cannot ensure whether these doctors have prior knowledge on disability or not." 
DISABILITY PREVALENCE DATA
DSS has disaggregated these data based on 12 types of disabilities. Physical disability is the most identified type of disability -- accounting for 46 percent of the total identified disabled people.
After physical disability, comes people with visual impairment (13.79 percent), followed by multiple disabilities (9.86 percent), intellectual disability (7.67 percent), speech impairment (6.9 percent), cerebral palsy (4.29 percent), hearing impairment (3.17 percent), chronic mental illness (3.5 percent), autism (2.74 percent), audio-visual impairment (0.42 percent), Down Syndrome (0.22 percent) and other forms of disabilities (0.74 percent).
Around 20 percent of all the people with disabilities live in disaster-prone districts such as Bhola, Jhalakathi, Barguna, Patuakhali, Pirojpur, Feni, Noakhali, Chattogram, Laxmipur, Cox's Bazar, Bagerhat, Khulna and Satkhira.
The highest number of people with disabilities has been identified in Cumilla district while the lowest number has been reported in the districts of Chittagong Hill Tracts.
There are 5,972 disabled people in Bandarban district which is the lowest concentration of disability among all the districts. Khagrachhari (12,364) and Rangamati (9,930) are also among the districts with the lowest number of persons with disabilities.
According to the World Report on Disability published in 2011 by the WHO, there are around 16 million people with disabilities in Bangladesh. The Household Income and Expenditure Survey (HES) conducted by Bangladesh Bureau of Statistics in 2010 said 9.1 percent of the country's total population have some sort of disability.
The HES was also based on functional limitations of the disabled people and followed globally recognised Washington Group Questions for detecting disability.
DISABILITY MUST BE INCLUDED IN NEXT CENSUS
Abidur Rahman, a physically challenged person in Kolaroa upazila of Satkhira, has been running an organisation named Spondon for people with disabilities.
He said according to the law, without the Golden Citizen Card, people with disabilities cannot apply for disability allowances and other benefits.
"We know many people who don't have any disability but still got this card due to their political connection. On the other hand, many poor people with disabilities who are not connected with any organisation did not get registered," he added.
Dr Ashrafi Ahmed said, "When we began the study, we used to go door to door to collect data. At present, disabled people are spontaneously visiting our field offices to get registered as they know that it will entitle them to receive allowances. They can also register online at dis.gov.bd."
"We are also following globally recognised methods and conducting this survey with trained professionals. So, there is no doubt that it is more accurate than any other previous survey," she said.
She, however, said one of the biggest remaining limitations is that they do not have any data protection mechanism despite the fact that they are dealing with huge amount of data on some of the most vulnerable population.
"Many government organisations want data from us. In some cases, we have to provide them with the required data but we don't have any mechanism to monitor and ensure that these data are used in a safe way. We have prepared a data privacy guideline and sent that to the law ministry. it has not been passed yet. Once it is passed every organisation working with these data will have to comply with it," Ashrafi added.
AHM Noman said disability prevalence data is extremely important for proper allocation of resources for these marginalised groups.
"One of the positive sides of DSS data is that with their limited resources they are showing disaggregated data based on types of disability. However, we must ensure that in the next census in 2021, disability is included which can give us a clearer picture on the prevalence of disability in Bangladesh," added Noman.