'Increase flights or help extend our work visas'
Migrant workers block major thoroughfare in capital for tickets to Saudi Arabia, as their visas expire Sept 30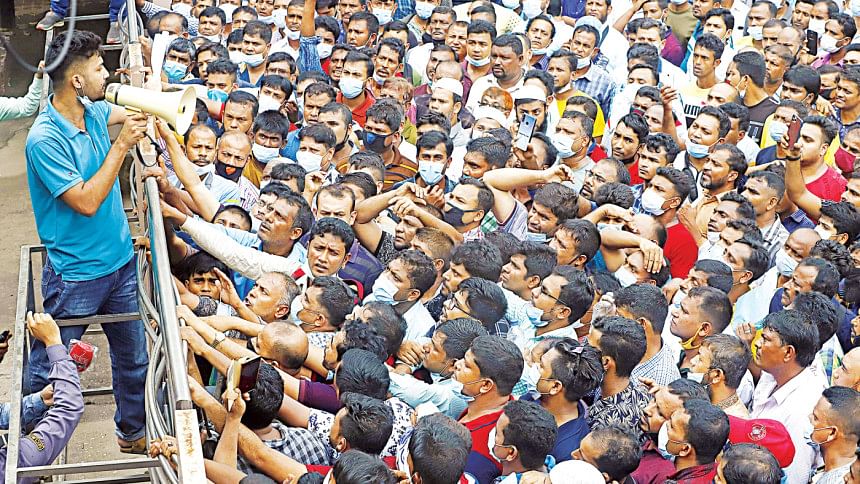 For the last two days, migrant worker Jahed Hasan has bene trying to confirm his return ticket to Saudi Arabia from a Saudi Airlines office in the capital.
He waited from dawn to dusk every day but could not secure one due to a severe ticket crisis.
Hailing from Bhola, Jahed said he will lose his job if he fails to go to Saudi Arabia by September 30 as his visa will expire on that date.
Like Jahed, around 10,000 expatriate workers have been gathering for the last two days at the Saudi Airlines office at Sonargaon hotel either to get a new ticket or re-issue return tickets to go to KSA.
Failing to get a ticket, they demonstrated and blockaded Sonargaon intersection yesterday morning for around an hour, halting traffic movement in the area. 
Admitting severe crisis of tickets, a top official of Saudi Airlines (Dhaka office) said at least 30,000 Bangladeshi workers are waiting to return to their work places in the Kingdom.
"But the Civil Aviation Authority of Bangladesh initially gave us permission to operate only two flights per week from Dhaka starting from tomorrow (today), which is not enough considering the huge number of passengers," the official said.
"We have already applied to CAAB to increase the number of flights so that we can accommodate more Bangladeshi workers in the flight," the official added.
He said visas of most of the 30,000 workers waiting to return to Saudi Arabia will expire on September 30.
"That's why there is a huge rush for tickets. We're trying our best to resolve the issue. We will give priority to issuing tickets to those whose visas expire on September 30," said the official.
Different travel agencies said several thousand migrant workers are feared to lose their job if the government does not immediately increase weekly flight frequency of Saudi Airlines from Dhaka.
Meanwhile, migrant workers demanded that the government take diplomatic efforts so that the Saudi government extends duration of their visas. If not that, then the number of flights has to be increased so that they can reach their workplaces before September 30, they said.
Asked, M Mohibul Haque, senior secretary, civil aviation ministry, said, "We have requested the foreign ministry to hold talks with the Saudi authorities to extend the tenure of visa for Bangladeshi workers."
About increasing the number of Saudi Airlines' fights, he said they will give permission if they [Saudi Airlines] apply to them in this regard.
Meanwhile, migrant workers continue to pass days amid uncertainty.
Shahidul Islam, a migrant worker, told this correspondent that he was scheduled to return to Saudi Arabia on March 20. But he couldn't due to suspension of flight operations from the middle of March following the global Covid-19 pandemic.
"The Saudi authorities extended my visa till September 30. But I couldn't confirm my return ticket in the last two days. I will lose my job if I can't go by September 30," he said.
This correspondent talked to several others who expressed similar angst.
Yesterday, in face of workers' agitation, officials of Saudi Airlines at the hotel at one stage issued a notice that they have suspended issuing tickets, prompting ticket seekers to take to the street.
They, however, moved away from the street after top police officials assured them of resolving their issues following talks with the Saudi Airlines' officials.
Several workers also complained that the Saudi Airlines authorities were charging an additional Tk 25,000 to re-issue tickets.
At the same time, several alleged that tickets are being sold at high price even at Tk 95,000 for one way.
Home to more than 22 lakh Bangladeshis, Saudi Arabia is also the prime destination for Bangladeshi migrant workers and the biggest remittance-generating country for Bangladesh.
Many expatriates came to the country on vacation from Saudi Arabia before the closure of flights amid the pandemic.
They remained stranded as only a handful of charter and special flights were operated between the two countries amid the pandemic.
BIMAN TO FLY TO KSA FROM OCT 1
Biman Bangladesh Airlines finally got permission from Saudi Arabia to resume commercial flights in the Middle Eastern country from October 1.
Biman Managing Director and CEO Mokabbir Hossain in a message on Monday said landing permission [in Saudi Arabia] is required before starting seat allocation.
But Biman is yet to get landing permission from the Saudi authorities. As a result, it is not possible to announce the flight schedule now, he said.
Biman MD also said for the time being, new tickets will not be sold.
The Bangladesh government suspended regular flight operations with all countries, except China, from mid-March to contain the Covid-19 spread. 
At present, 13 airlines, including 11 foreign air carriers, are operating 46 weekly flights in seven countries from Bangladesh.