Crested Serpent Eagle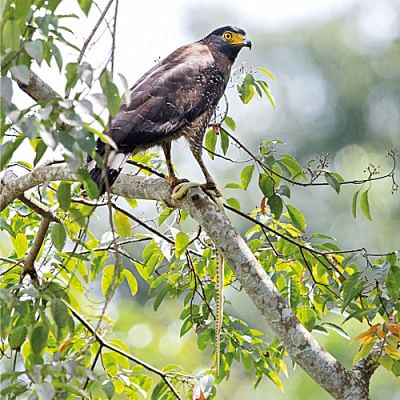 I was walking downhill along a narrow plantation trail in Moulvi Bazar when my eyes caught movement in the Kodom tree abutting a pond at the end of the trail. I could not see clearly past the large leaves and had to descend a few more steps before discerning a large bird. It had perched on a fat horizontal branch. Hanging from its talons was a long yellow snake, a checkered keelback. The non-venomous snake was probably fresh off the pond as it was still writhing. As I watched, the bird flew off with the snake dangling from its claws. It landed atop a tree a few hundred feet away.
I rapidly made my way there in a roundabout way so as not to frighten the bird. By the time I found it, the bird had decapitated the snake. After several seconds holding onto the snake, it took off again and I could not follow it this time due to the terrain. It left many questions unanswered. Did it swallow the snake whole? Did it skin it first? Or was it taking it to its nest for its chicks?
The bird was a Crested Serpent Eagle. It is possibly the commonest eagle of Bangladesh, found in forests, village groves, plantations and sometimes on roadside pylons in rural areas. At thirty inches long, it is larger than our kites. Under its black head, its body is dark brown and dotted with white spots. Bright yellow eyes look out sharply from its face. If it flies overhead, a broad white band running along the edge of its wings and tail is prominent. Juvenile birds are black and white with a salt-and-pepper head.
Crested Serpent Eagles have three noteworthy features. First, they have superb eyesight. Perched on a high spot they can spot prey on the ground half a mile away. Second, they have tough thick skin covering their legs. When they catch a snake, its fangs cannot easily bite through this skin. Third, they have a bushy crest of feathers running ear to ear around the top of their neck. This crest is normally flat, but when erect the bird looks majestic, reminiscent of the crest of a Harpy Eagle.
Other than non-venomous snakes, these birds also eat frogs, lizards, smaller birds, fish, large insects and larvae.  They occasionally take venomous snakes, but even with the hardened leg skin, it is a risky proposition for them.
In Bangladesh, I have seen the most Crested Serpent Eagles in Sundarban. Early morning, when travelling down a canal in a small boat, it is likely to be perched high on a Sundari or Keora tree, scanning the ground for food. Most birds of prey are shy, but this eagle is less so than others.
Globally, the Crested Serpent Eagle is found in a broad range of tropical Asia, starting from India and stretching east to Indonesia and southern China. The species overall is not considered endangered, although certain of its subspecies (races) are.
.
facebook.com/ikabirphotographs or follow "ihtishamkabir" on Instagram.