'BNP not AL's opponent, public is'
Mirza Fakhrul tells Sylhet rally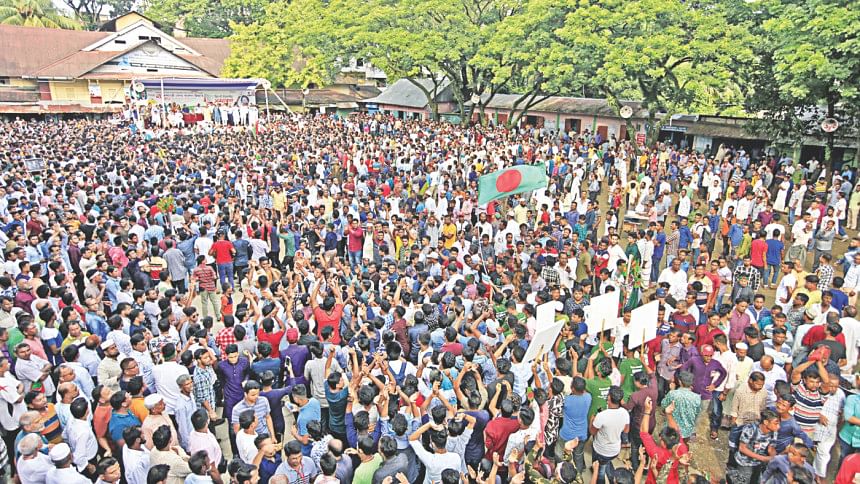 BNP Secretary General Mirza Fakhrul Islam Alamgir yesterday said the party is willing to help the government in the Rohingya issue, if the government is willing.
"He [Obaidul Quader] has urged us now to stand beside them in the Rohingya issue. After the influx began, we tried to help but the Awami League government was unwilling to take our help, and sent back our convoy on the way to Cox's Bazaar," Fakhrul said while addressing a public rally in Sylhet. He was speaking as chief guest at the rally, organised by Sylhet district and city units of BNP, at the Registry Office field in Bandarbazar area, demanding release of party Chairperson Khaleda Zia.
Several thousand people joined the rally, despite BNP getting permission to hold it only yesterday morning, although they applied well in advance. A large contingent of police were present outside the field, but no untoward incident happened.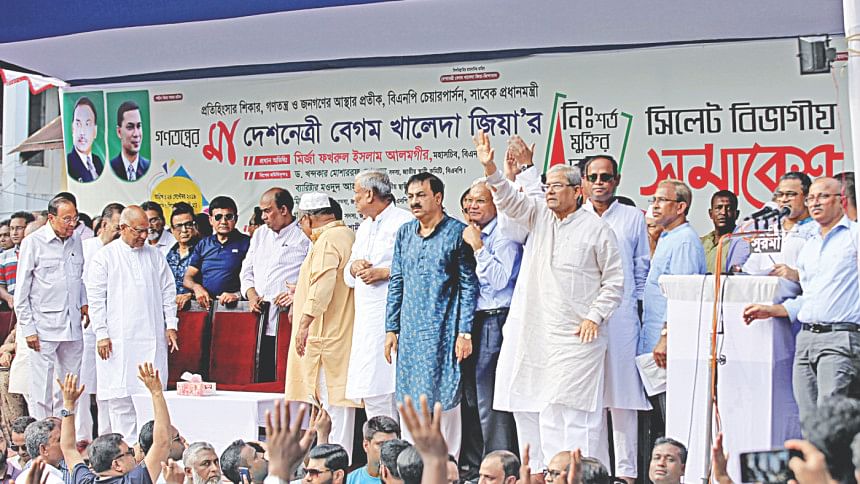 Mizra Fakhrul said, "Awami League claims they have made the country a role model for economical development. Maybe, that's why casinos are everywhere now."
"They [AL] blame that the casinos were set during BNP reign, then what were they doing all these years sitting in office?" he questioned.
The BNP secretary general also said, "More than 500 people like Ilias Ali are missing; a thousand have become handicapped due to oppression; and 26 lakh of people are accused in political cases."
"The main opponent of AL is not BNP; it's the people of the country. And that's why they robbed the national election of December 30 a night before, with the help of administration, police and BGB, not with their own party men," he said.
Fakhrul said prices of gas, electricity and commodities are rising regularly, but farmers are being denied of fair price for their products.
BNP central standing committee member Khondokar Mosharraf Hossain said, "The country's judicial system is run by the instruction of the government, and that's why Khaleda Zia is in jail."
Regarding the ongoing drives at clubs, he said, "The corruption surfacing in last seven days are nothing but a tiny drop of water in a vast ocean."
"Without the government's help, such casinos and corruption cannot run for long. We want to know the names of those behind these", he said.
Moudud Ahmed, another standing committee member of BNP, said, "If Khaleda Zia is jailed for five years for only a falsified blame of Tk 2 crore, how long should Jubo League leaders be jailed for around Tk 200 crore of FDR?"
Presided by Sylhet district BNP president Abul Kaher Chowdhury Shamim, others who spoke at the rally were BNP chairperson's adviser Khandakar Abdul Muktadir, vice chairman AZM Zahid, Shahjahan Omar and other central and local leaders.