61 'criminals' held from Dhaka in 24hrs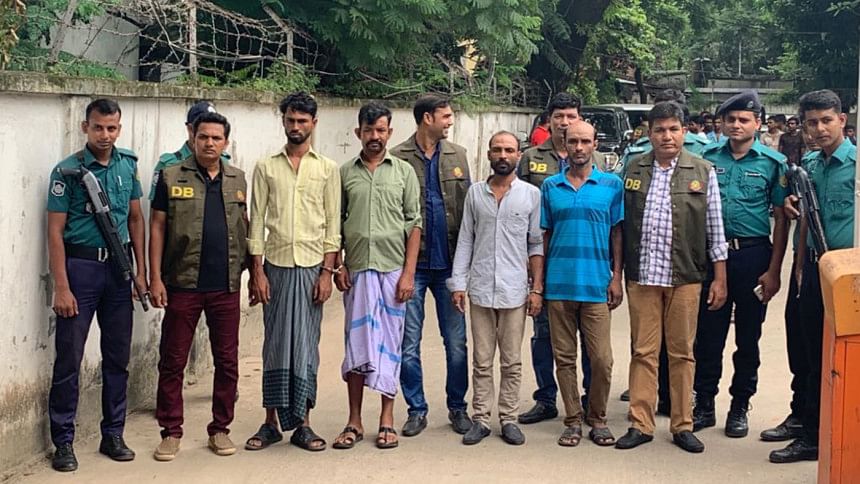 Detectives arrested 61 suspected criminals from different parts of Dhaka in the last 24 hours.
Three teams of Detective Branch (DB) of police took part in the operations, DB Assistant Commissioner Abdul Baten revealed the information during a press briefing at Dhaka Metropolitan Police (DMP) Media Centre this noon.
DB North arrested a man who used to collect money from various organisations identifying himself as inspector general of police (IGP). The arrestee is Md Tipu Mia alias Mominul Huq.
DB North also arrested three others -- Jakir Hosen, Shanta Akhter, Momtaj Begum -- on charge of making fake Indian currency with 26 lakh fake Indian Rupee.
The gang of three have been active in the fake currency market for the last few years, the DB official said. They were smuggling fake currency through cattle traders of the neighboring country.
A laptop, printer and other instruments were recovered from their possession.
On the other hand, four people were held with fake notes of TK 40 lakh 20 thousand in a joint operation of DB East and DB West. The gang of four were using the fake notes to cheat cattle traders and buyers ahead of Eid-ul-Azha, the assistant commissioner also said.
Six suspected drug traders were arrested with three foreign-made firearms, 2100 pieces of yaba tablets and a micro bus with a police sticker on it by DB East and DB West.
DB East and DB West in their joint operation also arrested seven members of a robber gang with four sharp weapons and 10 kilograms of marijuana.
On the other hand, multiple teams of DB held 40 members of a doping gang from different places in the city. They have been looting people by offering them tea, coconut water, biscuit and other drinks at places like bus stands, railway stations, cattle market and shopping malls.