'3.9m children stunted due to malnourishment'
Speakers urge govt to ensure nutrition for all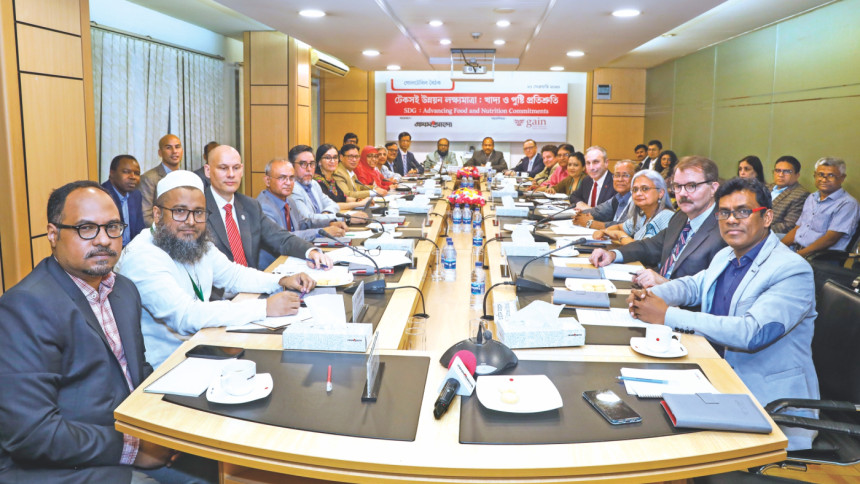 While progress has been made in various areas including food security, the government needs to focus on ensuring nutrition for the disadvantaged and malnourished, speakers said at a roundtable yesterday.
They said malnutrition poses a big challenge to build an economically productive population, and stressed enhanced government-private sector partnership to address the issue.
Bangla daily Prothom Alo and Global Alliance for Improved Nutrition (GAIN) jointly arranged the roundtable on "Sustainable Development Goals: Advancing Food and Nutrition Commitments" at the newspaper's office in the capital.
Latest government data shows further reduction in stunting. However, there are still 3.9 million children stunted in the country, said Piyali Mustaphi, chief of nutrition at Unicef Bangladesh.
"The number is still huge and we cannot be complacent about it," she said.
Malnutrition among children in urban slums, tea estate communities and parts of CHT region is high, she added.
Malnutrition costs Bangladesh more than Tk 7,000 crore in lost economic productivity each year, said GAIN Executive Director Lawrence Haddad, referring to a 2012 study.
Children who have inadequate nutrition and early stimulation during the first 1,000 days have a lifelong disadvantage in terms of productivity and economic potential, he said in a paper presented during the roundtable.
Lawrence, who also moderated the event, said access and affordability to healthy food is difficult for most Bangladeshis.
An average Bangladeshi consumes about 15 to 30 percent of the recommended daily intake of eggs, milk, fruits and pulses, he said.
Iftekhar Rashid, health specialist at the World Bank, said the government programme regarding nutrition in the past two-and-a-half decades was predominantly in rural areas.
The coverage in urban areas was not as good as the rural when it comes to primary healthcare service, he said.
Rashid said a typical rural primary healthcare network has brought a lot of success in nutrition in Bangladesh, and direct contact with the beneficiaries through community-based activities was instrumental behind it.
Such activity is less in urban areas, he said. "So, I think, considering that there is a sort of gap in [government] programming," he added.
Fernholz Manfred, team leader of the European Union Delegation to Bangladesh, hoped Bangladesh will renew its food and nutrition security commitments, which will be reflected highly in the eighth five-year plan.
He also said effective role of the national parliament is required to overcome the challenges of malnutrition. "Parliament is uniquely placed to ensure that nutrition becomes a key political priority," he added.
Dutch Ambassador to Bangladesh Harry Verweij said beside the government, other private sector partners should be included in addressing nutrition challenges.
World Food Programme Representative and Country Director in Bangladesh Richard Ragan said private sector stakeholders have to come forward to overcome the challenge.
Robert Simpson, country representative of Food and Agriculture Organization, stressed for undertaking more micro level nutrition policies.
Mujibul Haque Chunnu, chairman of the parliamentary standing committee on Labour and Employment Ministry, said the country has achieved self-sufficiency in food security while the government is working to ensure nutrition for the poor and malnourished, especially children.
The government has taken some steps to increase the availability of protein-rich food, said Planning Commission member Zakir Hossain Akanda.
Bangladesh National Nutrition Council Director General Shah Nawaz said more than 20 ministries are involved in the nutrition programme. Some of the ministries have spent significantly high on nutrition, and it is required to see whether their expenditure was for the right people, he said.
Prothom Alo Associate Editor Abdul Quayum said malnutrition is a major cause of stunting and it is a big problem in Bangladesh.