Voting at Narayanganj was held peacefully without any untoward incident – what has been dubbed as "a fair election that will be a model in the history of Bangladesh".
Additional Chief Metropolitan Magistrate of Dhaka Md Kaisarul Islam, who is leading a six-member team of magistrates, made the comment after visiting several voting centres in Narayangnaj today.
"We did not get any complaints of irregularities during the visit," he told The Daily Star.
Around 25% turn out at 4 centres at Mijmiji Paindi Rekmat Ali High School till 12:pm @ NCC polls: Presiding Officers

— Tuhin Shubhra (@tuhin_nightbird) December 22, 2016
After the voting ended at 4:00pm, Returning Officer Nuruzzaman Talukder told The Daily Star that the election was held in a fair and peaceful manner, and counting of votes and announcement of the results will be done following due process.
Shortly afterwards, election officials began counting the votes.
The mayor candidates also were happy of the developments and had no complaints of the election that started from 8:00am and went uninterrupted until 4:00pm across 174 voting centres.
Selina Hayat Ivy, the preceding mayor and the Awami League sponsored candidate, said: "People are casting votes in a festive mood. All the law enforcers are active today."
"We are happy with the peaceful voting atmosphere," 65-year-old Md Shajhan of ward -1 @ NCC said after casting his vote.

— Tuhin Shubhra (@tuhin_nightbird) December 22, 2016
Her rival candidate from BNP, Shakhawat Hossain Khan, also expressed content about the election and said he will accept the polls result if it is carried out fairly till the end.
"This year's NCC poll is the proof that elections during Sheikh Hasina's rule are always fair," Shamim Osman, Awami League lawmaker in Narayanganj, told reporters after casting his vote at Narayanganj Bar Academy Polling centre at 2:30pm.
He expressed confidence about the victory of his party-backed mayoral candidate adding that BNP would not get the chance to boycott any elections in the future after today's fair election.
Nearly five lakh voters in the city's 27 wards exercised their franchise to elect the next mayor and a group of councillors – the hottest contestants being from Awami League and BNP.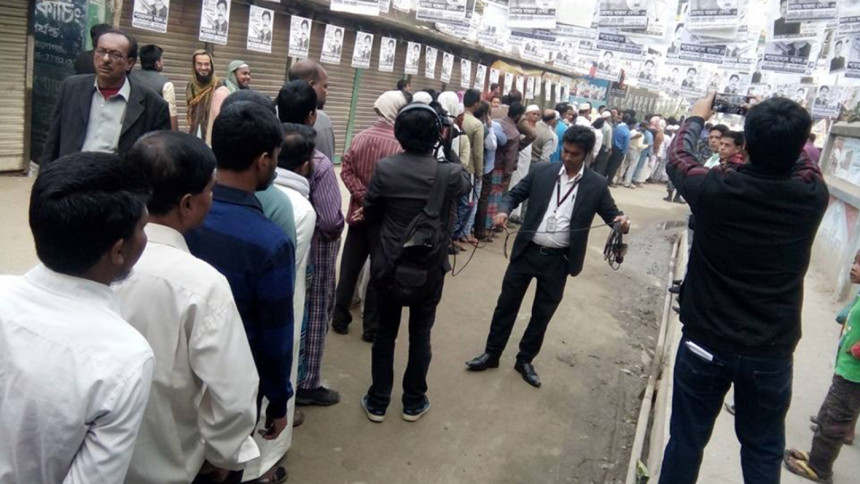 BNP is the party that boycotted the last general elections.
Around 9,500 members of paramilitary Border Guard Bangladesh, elite force Rapid Action Battalion, police and Ansar members have been deployed for security.
Unlike most elections, the polls campaign in Narayanganj was free from violence this year.
---
---