Nahid stays careful not to disturb HSC examinees
Plans shortening of exam period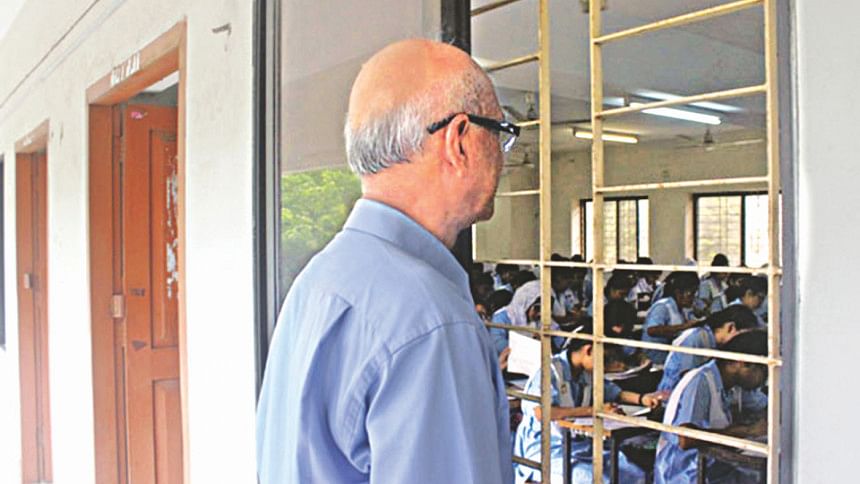 Taking into account past criticism and the state of mind of the candidates, Education Minister Nurul Islam Nahid for the first time avoided entering the exam halls during the Higher Secondary Certificate (HSC) and equivalent examinations that began yesterday.
It had been a long tradition that the education minister would visit a centre on the first day of any public exam, while packs of photojournalists, TV camera crew, officials, and teachers would follow him into the halls, disturbing the quiet the examinees need.
Nahid yesterday visited Shiddheshwari Girls College in the capital around 10:00am, and walked down the hallways to see the environment and inquired the principal about the exams.
"The presence of so many people in the hall affects the examinees," he told reporters outside the venue.
Over 1,218,628 students from 8,533 educational institutions have registered to sit for the over two-month long tests under eight general boards, one madrasa board, and one technical board.
The examinations will end on June 9, while practical tests will be held from June 11 to June 20.
Nahid said visiting exam halls was an "age-old practice" for ministers as they wanted to see how things were progressing.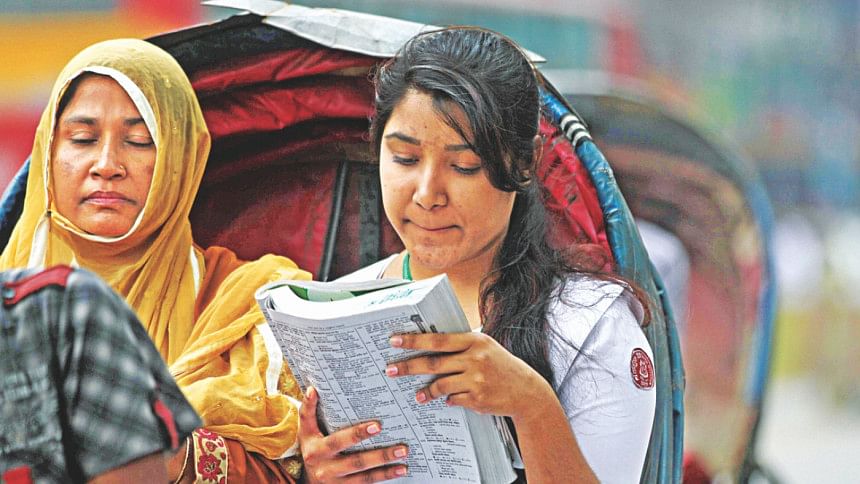 "But if I come in with 50 people, they [the examinees] would naturally feel disturbed," he said.
The minister said the number of media houses in the country was not so high before, but there were many now.
He said his ministry was working to reduce the duration of the examinations, but to do so they needed cooperation from all including parents.
"We don't want to hold the exam for an extended period of time. In my view, it should be completed within five to six days," he said, giving his experience as a candidate of matriculation examinations.
Holding exams for a long time is a waste of time of the students, and it allows the coaching centres to do business, he alleged.
Meanwhile, 39 examinees at Abdul Mannan Mohila College Centre under Shariakandi upazila in Bogra allegedly got multiple choice questions (MCQ) of the old syllabus of 2015, reports our Bogra correspondent.
In Sherpur, candidates at Sherpur Government Girls' College faced difficulties due to a power outage caused by rain.
ABSENCE, EXPULSION
A total of 12,887 candidates were absent yesterday, while 43 were expelled for resorting to unfair means.
The highest number of absentees was from Dhaka board, with 2,211 examinees staying away, while Sylhet board had the lowest number of absentees -- 337, according to the Bangladesh Inter-Board Co-ordination Sub-Committee.
Among the expelled students, 32 were from the technical board, eight from the madrasa board, and one each from Dinajpur, Rajshahi and Jessore boards.