'Maximum security steps taken centering Ashura'
Says DMP commissioner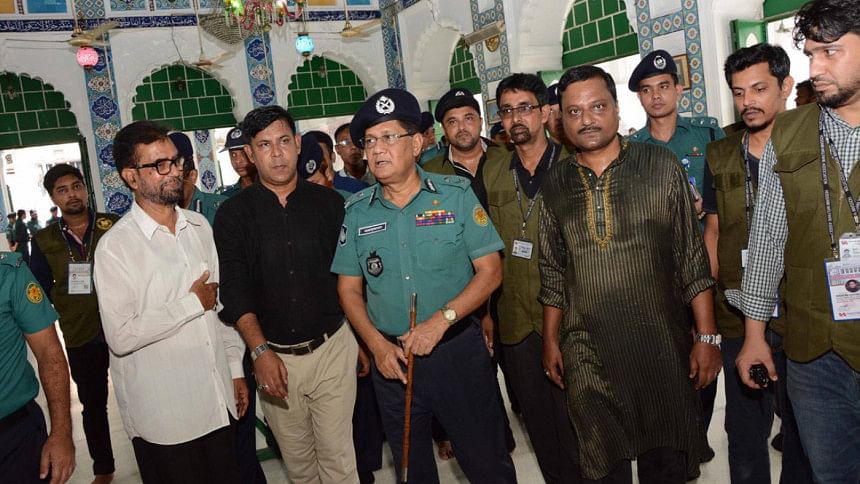 Maximum security measures have been taken centering Ashura to be observed on Sunday commemorating martyrdom of martyrdom of Hazrat Imam Hussain (RA).
After the bomb blast at Hossaini Dalan on the day of Ashura in 2015 that killed two people, timings of the big processions have been changed, Dhaka Metropolitan Police commissioner Asaduzzaman Mia told reporters at a briefing in front of the Hosseini Dalan Imam Bara in the morning.
On ninth Moharram, the timing of the procession that will start from Hossaini Dalan and end at Dhanmondi Lake has been changed from 2:00am to 9:00am and on 10th Moharram, the procession will leave at 10:00am instead of 4:00am, Hossaini Dalan authorities told The Daily Star.
Another big procession, which starts from Bibir Rouza in Shyambazar, will begin at 2:00pm, two hours earlier than the usual time.
Anyone interested in joining the procession has to take part from the starting points through security archways that have been installed in the starting points, said Asaduzzaman Mia.
The processions will be cordoned off by police officials and no one can join from the middle points, he added.
The entire Hossaini Dalan premises is being scanned by the dog squad and will continue till the programme ends.
Bomb disposal unit, SWAT, fire service and divers will be stationed by the processions, the official said. 
Meanwhile, the height of procession flags has been limited to 12 feet, he added.