Losing lustre, but still not lost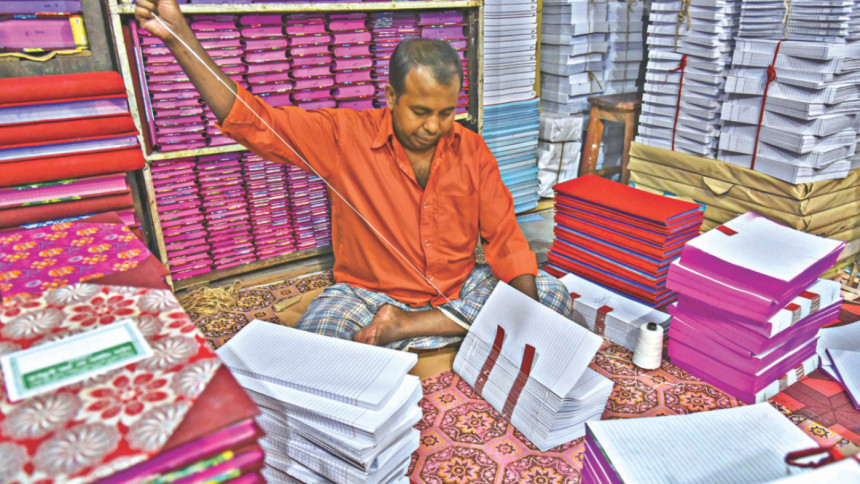 One of the largest wholesale commodity markets in Bangladesh, Khatungonj used to celebrate Halkhata with much festivity even a decade ago. Clients would visit the shops and pay up their dues, and the traders would treat them to sweetmeats, renewing the relationship.
But the festival is gradually becoming a thing of the past.
Traders and shopkeepers have blamed the advancement of communications technology and banking and declining trust among people for the fading grandeur of the event.
Solaiman Badsha, director of Tayabia Traders, said trading was mainly conducted through cash even a decade ago, and customers used to pay up their full-year outstanding credit on Pahela Baishakh, the first day of the Bangla calendar.
To begin a new year, a Halkhata (new ledger book) used to be opened after closing the accounts of the outgoing year, he said.        
Elaborate preparations including decorating shops, sending invitations to clients, and purchasing sweets and other food items were undertaken to mark the day.
"Halkhatas are still opened, credits paid up, and sweetmeats and food offered to customers. But everything is done on a small scale," Badsha said.
"The grandeur of the Halkhata festival is no more like it was in the past."
Badsha, who has been involved with trading in Khatungonj since 1990, said only 20 percent of the dealings are now done through cash, and the rest through cheques.         
Azizul Hoque, proprietor of Hoque Trading, echoed his fellow, saying earlier clients used to come with bags full of cash to clear arrears; this does not happen today.
But all is not lost yet.
Whatever the mode of settlement, traders still open a ledger book to keep accounts of the annual business, said Hoque.
Many clients do not feel interested to pay their dues on their own, said Chandan Kumar Poddar, owner of Gopal Banijja Bhandar. "As a result, the Halkhata festival is losing its appeal day by day."                
Sagir Ahmed, general secretary of Khatungonj Trade & Industries Association, said because of the development of communications technology, banking and other facilities, people have lost their interest to pay up their outstanding bills on the same day.
Although Pahela Baishakh is observed on April 14 across the country, many traders celebrate it the next day in line with the Bangla calendar introduced by Mughal Emperor Akbar.