JSD still relevant
Says Inu marking 45th founding anniversary of party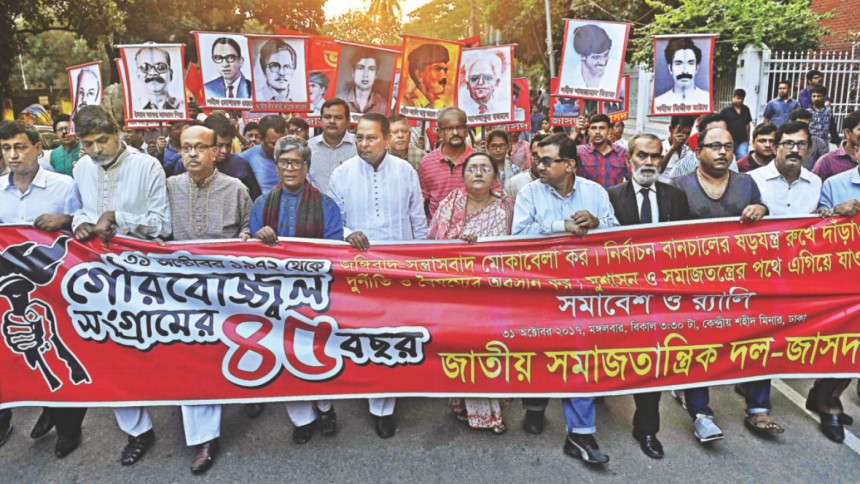 Even after 45 years of its founding, Jatiya Samajtantrik Dal (JSD) is still relevant today.
Information Minister Hasanul Haq Inu said this at a rally yesterday at the Central Shaheed Minar, marking the 45th founding anniversary of the party.
The minister is president of the party, which is a constituent of the ruling 14-party alliance.
Refuting criticism from the far-right and far-left quarters, the minister said as long as the country faces threat from militancy and Razakars, there would be need for the broad national unity forged by the ruling alliance.
"As long as there is a threat from militants and the basic ethos of the country are at stake, not only JSD but also the 14-party alliance is relevant," he said.
JSD along with the Awami League will fight for a democratic, non-communal and Razakar-free nation, he also said.
The minister paid glowing tributes to all who had contributed to the foundation of JSD including Sirajul Alam Khan, Major MA Jalil and ASM Abdur Rob. He also recalled those who had been martyred, including Col Taher, in the struggle for socialism.
JSD General Secretary Shirin Akhter, MP, former Jahangirnagar University vice-chancellor Dr Anwar Hossain and other party leaders spoke.
The meeting was followed by a red flag procession that marched from the Shaheed Minar to Zero Point through Topkhana Road.
Earlier, in the morning, floral wreaths were laid at the portrait of party leaders, who had died or were martyred, at the party office at Bangabandhu Avenue.