Journalist Faruk buried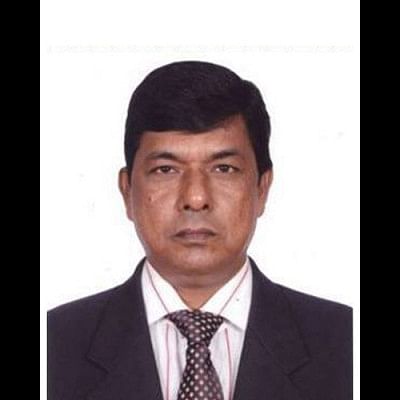 Journalist Abdullah Al Faruk was buried at Azimpur graveyard this evening following three namaz-e-janazas.
A former deputy editor of Daily Kaler Kontha Faruk was hit by a speedy truck near Kakrail crossing last night and succumbed to his wounds early this morning as he was being treated at the city's Square Hospital.
Previously he also worked for the Daily Somokal, as chief reporter, while Faruk performed his duties for the Daily Sangbad, Jugantor in different capacities and earned repute of being a good reporter.
Fifty-year old Faruq left behind his wife, a minor son and a girl and a host of colleagues and admirers. The first namaz-e-janaza of Faruk was held at National Press Club at 2 pm followed by the second one at Dhaka Reporters Unity and the third one at Mohammadpur in the city.
Information Minister Hasanul Huq Inu, Prime Minister's Media Adviser Iqbal Sobhan ChowdhuryBangladesh Sangbad Sangstha (BSS) Managing Director and Chief Editor Abul Kalam Azad, journalist leaders and other senior journalists joined the namaz-e-janaza at National Press Club.
Information Minister Hasanul Haque Inu today expressed profound shock at the death of eminent journalist and researcher Kazi Zafrul Islam.
In a message of condolence, he said the country has lost a devoted journalist at the death of Kazi Zafrul Islam.
The minister prayed for eternal peace of the departed soul of the deceased and conveyed sympathy to members of the bereaved family Bangladesh Federal Union of Journalists (BFUJ) today expressed profound shock and sorrows at the death of prominent journalist Abdullah AL Faruk in a road crash overnight.
"He (Faruk) was a brilliant journalist . . . his premature death has caused an irreparable loss to the arena of contemporary journalism," BFUJ's newly elected President Altaf Mahmud and Secretary General Omar Faruque and outgoing president Manjurul Ahsan Bulbul and secretary general Abdul Jalil Bhuiyan in a statement said.
The leaders of the apex journalists' body demanded police actions to track down the driver of the truck to be exposed to justice for recklessness causing the deadly crash.
The journalist leaders conveyed their deep sympathy to the members of the bereaved family and prayed for the departed soul.
Besides, Jatiya Press Club (JPC) and Dhaka Reporters' Unity (DRU) issued separate condolence messages and expressed their deep shock at the death of journalist Faruk.
In a condolence message, the JPC president Muhammad Shafiqur Rahman and general secretary Quamrul Islam Chowdhury expressed profound shock and sorrows at the death of prominent journalist Faruk.
They conveyed sympathy to the bereaved family members and sought eternal peace of his departed soul.
In another condolence, DRU president Jamal Uddin and general secretary Razu Ahmed expressed deep shock at the death of Faruk. They assured to provide all sorts of assistance for his son and daughter to continue their education.