Dedicated to children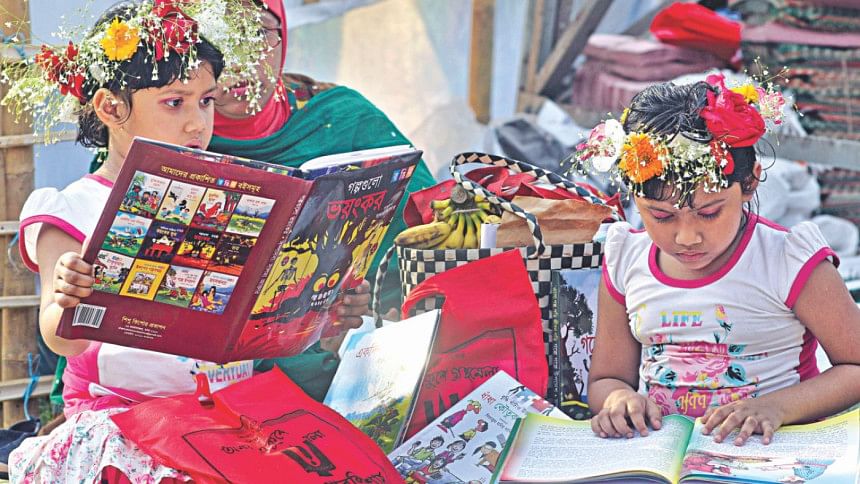 Wearing similar outfits, Fairuz and Faiza were shuffling through the piles of colourful books. The twins have immense interest in books. But they cannot read.
Four-year-old Faiza picked up "Chhorar Mela" (poetry carnival) at the stall of Ankur Prokashani and started imploring her father to buy the storybook for her.
Fairuz already got hers. "I bought Lal Pori Nil Pori (Blue and red fairies)," she said with a smile. It is not words, but colourful pictures that attract them, said their father, Faizul Rahman, who works at an IT firm. "They can identify images. They love books a lot."
To satisfy the curiosity and need of the young readers, the Amar Ekushey book fair dedicated Shishu Prohor, two hours for children, every Fridays and Saturdays, when they can have fun learning new things and meeting popular TV characters like those of Sisimpur.
The Shishu Chattar, set up around a banyan tree, is surrounded by stalls of children's literature including books of stories, rhymes, fairy tales, comics, drawing and also general knowledge.
The fair ground saw a large crowd on the weekend, with queue extending up to TSC from the entrance to Suhrawardy Udyan premises. It got crower in the afternoon.
While children were playing around, parents were seen taking videos and photos of the joyful moments.
GRAPHIC NOVEL ON BANGABANDHU
Bangabandhu Sheikh Mujibur Rahman was brought alive in the graphic novel series, first comic book published by the Centre for Research and Information (CRI).
"While most of our superheroes wander around the world of imagination and fiction, this graphic series on Bangabandhu portrays how a boy with ordinary upbringing ended up being the father of a nation," said a fourth grader Simu, holding the graphic series.
"I've been so hooked after reading the first episode that I can identify with the life of school-going Mujib. So, I bought the second episode," said Uzzal of Motijheel Ideal School. 
The entire autobiographical book by Bangabandhu, "The Unfinished Memoirs", would be presented in 12 volumes in the series, said Sabbir Bin Shams, executive director of CRI, adding they would bring the third episode in this fair.
The fair also became a rendezvous for foreigners as well. Sujin Hong, an NGO worker from South Korea, bought "Rangin Ghurir Haat" by Rahim Sheikh for her students of Children's Centre at Mirpur.
"I can read Bangla," said smiling Sujin.
Aboni, a fifth-grader of Siddheswari Girls' School, bought "Onekgulo Bhuter Golpo" of Imdaul Haq Milon from Shishuprokash. "I'm never afraid of ghosts but I love to read these," she said.
"But she used to get scared earlier," said her younger brother Achin, smiling at her. The preschooler also bought "Goyenda Shikur Ovijan" from Sisimpur.
Handling crowd at the stall of Shishuprokash, salesperson Farhan Amin said, "Imdadul Haq Milon's new book 'Chhotoder Nana Rokom Golpo' with eminent Hashem Khan's drawing and 'Sukumer Rayer Hashir Golpo' are the children's favourite at our stall."
On the 10th day of the book fair, 313 new books arrived and 43 books were unveiled.