Important but neglected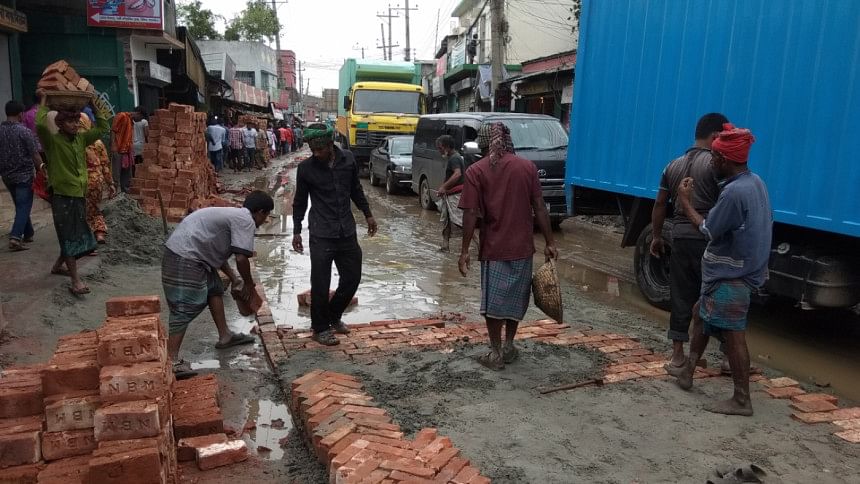 More than two decades back, it was the main route from Dhaka to Narayanganj. All passenger and freight vehicles used to ply this 12km road along the Buriganga river. Stretching from Postogola to Chasara, it is now known as the old Dhaka-Narayanganj road.
In 1995, when the Dhaka-Siddhirganj-Narayanganj road was built, it became a popular route, and the old one started to be neglected. The old road was, however, no less important than the new one when it comes to goods transport. Still, in the last 23 years, the old road was neither widened nor did it undergo any major renovation.
These days, it has become risky for commuters to use the potholed road. During rain it gets even riskier. Often, vehicles are considered lucky if they do not overturn. The mishaps leave commuters injured on a regular basis.
Deb Das, driver of a battery-run three-wheeler, said, "It is wrong to call it a 'road' now. There are countless potholes on it, and large chunks have broken away. Travelling on this road is like riding a boat bobbing in the water."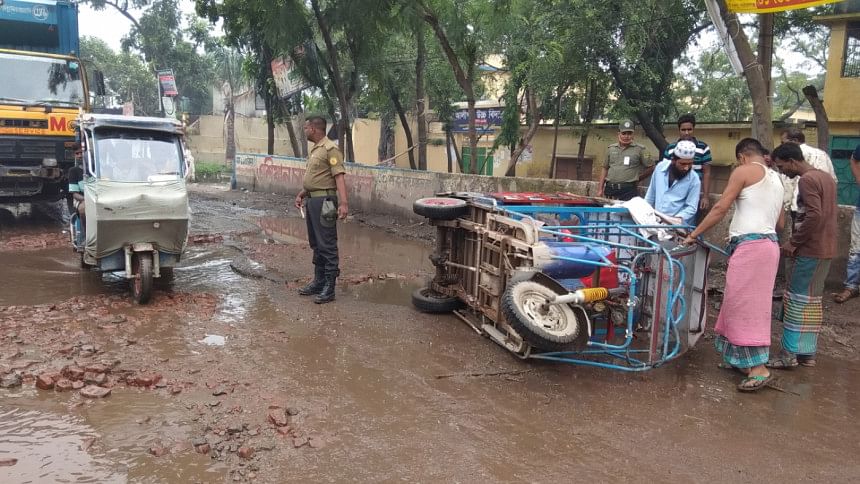 Condition of the road is particularly appalling at Aliganj. Recently, at least 10 mishaps occurred in this part in just one day, Md Alamgir Hossain, an Ansar man managing traffic in the area, told The Daily Star.
"Around 9:00am two goods-laden rickshaw-vans flipped over, followed by an easy bike one and a half hour later. In addition, 7-8 passenger carrying easy bikes and rickshaws fell on the road, injuring about 15 people," he said.
A local tea shop owner, Kartik Devanth, said, "At least 7 to 8 mishaps occur at Aliganj point if it rains. Bricks were laid out on the road only two days back, but they were washed away, exposing the potholes again."
During a recent visit, this correspondent witnessed several battery-run three-wheelers, rickshaw-vans and rickshaws that fell on the road in Aliganj.
Ranjit Modak, a resident of Dapa area and president of Fatullah Reporters Club, said, "The road gets damaged frequently because there is no drainage system on the sides. Waste dumped by the roadside has worsened the situation. The Roads and Highways Department should look into the matter."
Because of heavy industrialisation in Narayanganj, trucks and trailers regularly ply the old road, while the new one is mostly used by passenger vehicles.
Four other points are also in dilapidated condition -- BSCIC industrial area, Panchaboti intersection, Dapa Balurmath, and Pagla Bazar.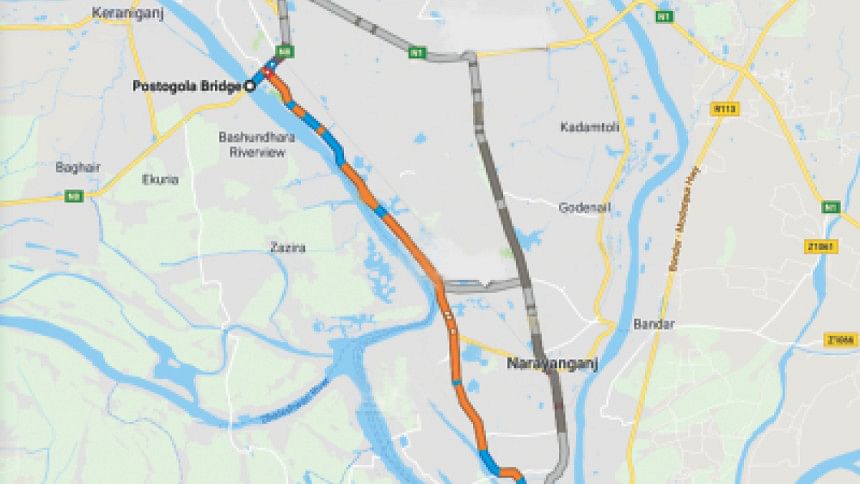 During a recent visit, it was seen that the vehicles were stuck in traffic jams for hours as they could not pass the areas quickly due to large potholes. The water collected on both sides of the road added to the misery.
In BSCIC industrial area, truck driver Ripon said, "It should take 30-35 minutes to come here from Dhaka. But the road condition is so bad that it takes several hours. Because of the road's condition, traffic jams and accidents have become frequent."
Muhammad Hatem, former senior vice-president of Bangladesh Knitwear Manufacturers and Exporters Association (BKMEA), said there are at least four hundred factories in the BSCIC area, where about two lakh people work.
"Factories in only BSCIC area earn foreign currencies worth Tk 2,500 crore every year. But because of the road conditions and traffic congestion, buyers cannot visit this area. As a result, this industrial area cannot realise an export potential of Tk 1,500 crore more," he said.
Executive Engineer of Roads and Highways Department in Dhaka, Mehedi Iqbal, said this road was last repaired five to six years back. "We could not start renovation due to lack of funds. But one month ago, a Tk 10 crore contract was awarded for the work," he added.
Ziaul Haq, traffic inspector of Narayanganj District Traffic Police, said that in BSCIC area, the repair work of a 700-metre stretch was done, while renovation of the entire Postogoala-Panchaboti section will start soon.