BDR carnage case: HC confirms death for 139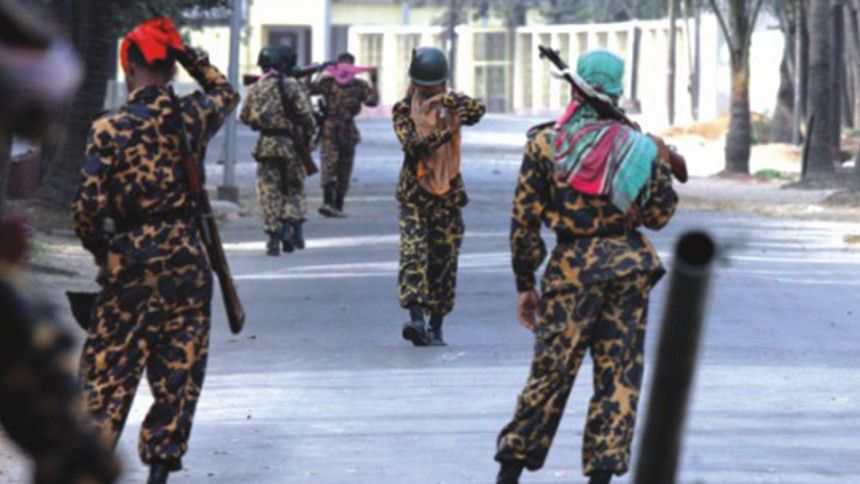 The High Court today confirmed death for 139 out of 152 convicts who were given capital punishment by lower court in BDR carnage case.
Among rest of the convicts, the court commuted death penalty of eight to life-term imprisonment and acquitted four others. Another death row convict died earlier.
Read more: BDR carnage was to create political crisis: HC
Besides, the court upheld life-term for 146 convicts, awarded different terms of imprisonment to 196 and acquitted 41 others.
Out of the total convicts, 28 did not file appeal against the lower court verdict and three died during hearing of the appeals and death references.
Read more: Probe intelligence failure: HC
A three-member HC bench of Justice Shawkat Hossain, Justice Nazrul Islam Talukder, Justice Md Abu Zafor Siddique pronounced the verdict this afternoon.
In 2009, seventy-four people, including 57 army officials, were massacred during the BDR mutiny at the Pilkhana headquarters of the paramilitary force, later renamed Border Guard Bangladesh (BGB).
The death reference and the appeals were filed with the HC months after a Dhaka court on November 5, 2013, awarded death sentence to 150 BDR members and two civilians, and life imprisonment to 160 others for their roles and involvement in the carnage.
The Dhaka court also handed down rigorous imprisonment to 256 people, mostly BDR soldiers. It acquitted the remaining 278 accused, but the government later appealed against the acquittal of 69 of them.
The HC started hearing the death reference and appeals from the convicts in January, 2015.