Full verdict commuting Oishee's death released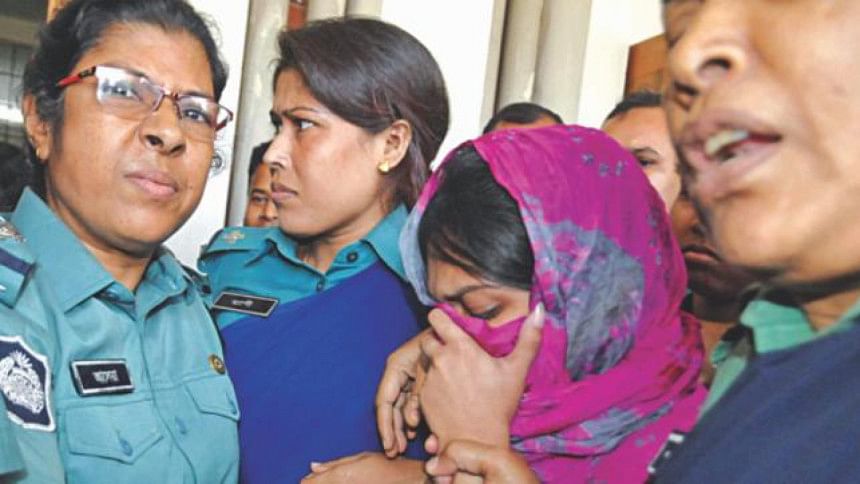 The High Court today released full text of its verdict that commuted the death sentence of Oishee Rahman to life imprisonment in a sensational case filed over killing her parents --Mahfuzur Rahman, a police officer, and Swapna Rahman -- in 2013.
The 78-page verdict was released after its HC Justice Jahangir Hossain Selim and Justice M Jahangir Hossain signed it.
Following the release of the verdict, Oishee can move an appeal before the Appellate Division of the Supreme Court (SC) against the HC verdict.
Earlier on June 5, the HC judges commuted her death penalty to life imprisonment, considering five "extenuating circumstances" including her mental condition and age when she killed her parents.
The HC, however, did not specifically say how long she would have to serve in custody.
A trial court on November 12, 2015 sentenced Oishee to death for killing her parents. She later challenged the lower court verdict.
The bodies of Mahfuzur, inspector of Special Branch of police, and his wife Swapna Rahman were recovered from their Chamelibagh house in the capital on August 16, 2013.
On March 9, 2014, the police pressed charges against Oishee, her friends Johnny and Ronny and 11-year-old domestic help Sumi.
According to the charge sheet, Oishee alone killed her parents, Johnny instigated the murders and Ronny gave her shelter after the incident. Sumi was accused of assisting Oishee in hiding the bodies.