Heavy rain disrupts life in Dhaka city again
A heavy rainfall submerged parts of Dhaka in knee-deep water today, causing much suffering to city dwellers.
Beginning this morning, the rain came down hard around 12:00pm and continued for nearly four hours.
The Met office recorded 121mm rain between 12:00pm and 3:00pm in Dhaka, Meteorologist Arif Hossain told The Daily Star Online. "Slight to moderate rainfall may occur for the once or twice a day again," he predicted.
Meanwhile, gridlock on the city's roads and streets brought the double blow with the acute waterlogging that again exposed the poor drainage system.
Roads, lanes and bi-lanes in Farmgate, Green Road, Manik Mia Avenue, Dhanmoni 27, Shukrabad, Subhanbagh, Tejturi Bazar, Agargaon, Mirpur, Kazipara, Begum Rokeya Sarani, Karwan Bazar, Shantinagar, Rayerbazar, Jatrabari and some other lower-lying areas in Dhaka were inundated.
Commuters, especially students and office goers, suffered a lot as vehicles were seen stranded in roads.
Waiting for more than half an hour at Karwan Bazar to reach her destination, Nazma Akhter looked very tired. "Drainage system causes such sufferings," she told our correspondent on the spot.
Sixty-year-old Abdul Hashem also got wet and faced sufferings while returning home from his workplace.
"This problem persists round the year when it rains," he said mentioning the irresponsibility of the authorities concerned.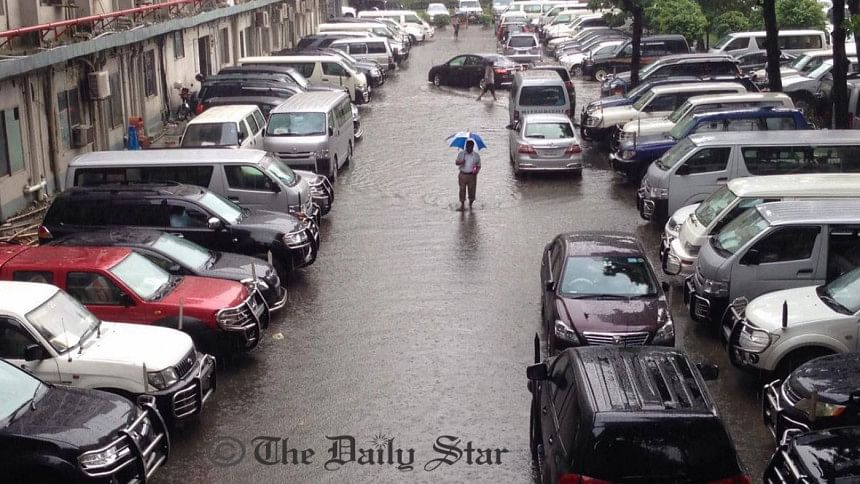 Rain to continue
Light to moderate rain or thunder showers accompanied by temporary gusty wind is likely to occur at most places over Rangpur, Rajshahi, Mymensingh, Khulna and Sylhet divisions, Bangladesh Met Office bulletin reads.
There may moderately heavy to heavy falls at many places over Dhaka, Barisal and Chittagong divisions and other places over the country, according to the bulletin.