Damaging environment: Hazaribagh tanners relieved of Tk 30cr fine
They won't have to pay Tk 10,000 per day as compensation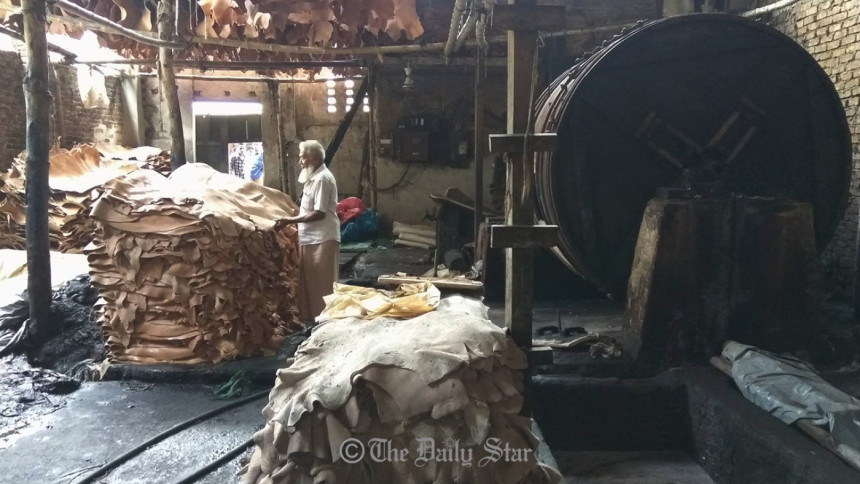 The Supreme Court today exonerated the Hazaribagh tannery owners from paying Tk 30.85 crore for damaging and polluting the environment.
It also relieved the tannery owners from paying Tk 10,000 per day as compensation.
The SC ordered the authorities concerned of the government to supply gas, water and electricity connections to the tannery industries which will be relocated to Saver.
The apex court also asked the authorities concerned to take necessary steps so that the tannery waste and sewerage are not dumped into Dhaleshwari river in Savar.
The four-member bench of the Appellate Division headed by Chief Justice Surendra Kumar Sinha passed the orders following two separate petitions filed by the tannery owners.
READ MORE: Close tanneries at Hazaribagh
In the petitions, the owners said that their industries at Hazaribagh were closed and their utility services were also disconnected yesterday.
Tanners asked to pay Tk 50,000 in 15 days
The Supreme Court however asked each of the tannery owners to pay Tk 50,000 to the industries secretary in 15 days so that the secretary can distribute the money to the tannery labourers who will be transferred to Savar from Hazaribagh.
During hearing the petition, the chief justice cautioned the people concerned so that Dhaleshwari river in Savar is not damaged and polluted after relocation of the tanneries from Hazaribagh.
It would not be benefitted if the river is damaged due to relocation of the tanneries.
The CJ also said that there is information that the Central Effluent Treatment Plant (CETP) at Savar has yet to be completed for running tanneries.
Earlier on March 2, the HC directed 154 tannery owners to deposit Tk 30.85 crore to the state fund in two weeks and warned that they will face serious consequences unless they pay the money.
Yesterday, the Department of Environment cut off all the utility connections to the tanneries running in Hazaribagh.
On March 6, the HC ordered the director general of DoE to snap utility service connections, including gas, power and water, to the tanneries as they were damaging the environment violating its earlier directives.