Haatibaji!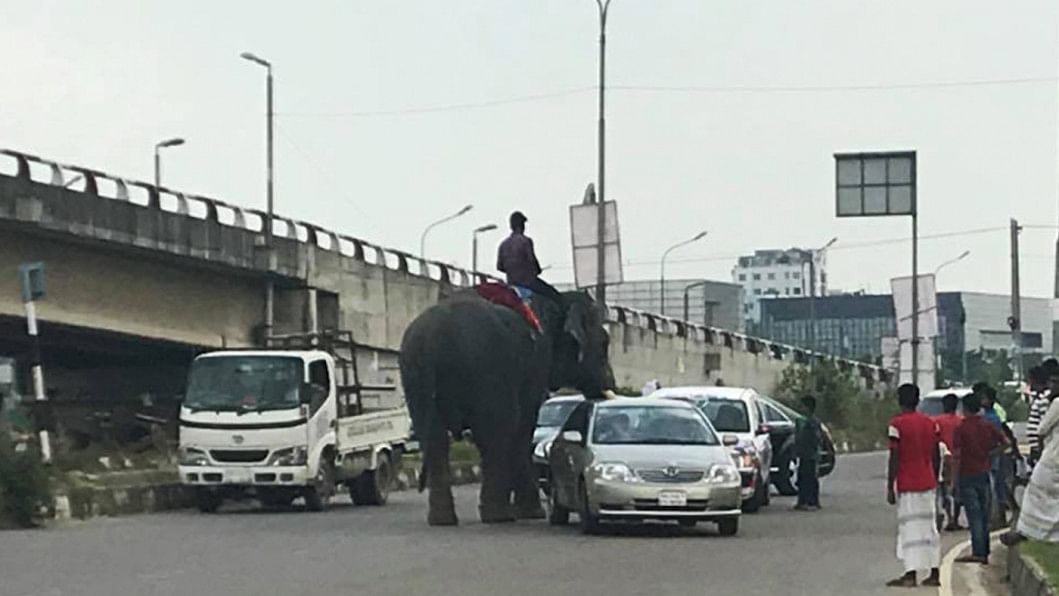 Once upon a time

city

people have to go to the zoo or out into the jungle to see elephants. But now, people can find elephants, most of them in a sorry state, on many city streets as they are

used for collecting money

from the commuters. 
Take for example today, people commuting through the Airport Road were seen panicking, when their vehicles were barred by an elephant, creating havoc on the road near Kuril flyover in Dhaka.
Controlled by a mahout, the elephant was being used to stop vehicles of all sizes in the middle of the busy VIP road for extortion.
Commuters passing through the road were facing trouble and expressed their exasperation due to the interruption at rush hour, according to several of the commuters who shared their experience on the popular Traffic Alert group on Facebook.
A member of the Traffic Alert group posted photos of the elephant while another member, in the group, claimed that he forced the mahout to leave the road along with the elephant.
Several members of the Facebook group asked why the concerned authorities do not punish the perpetrators. 
Many of the members termed it as "Haatibaji".  
The Daily Star Online tried to reach the Khilkhet Police Station over the matter but could not reach the duty officer or the officer-in-charge before filing this report around 12:20pm.
However, the duty officer of Bhatara Police Station said that he had heard a message that a police team from Khilkhet was on its way.
Elephants for extortion
Use of elephants has become a common technique for collecting money from street-side shops and passersby in the capital.
It has also raised concern among animal rights activists.