Law on cards to limit number of family cars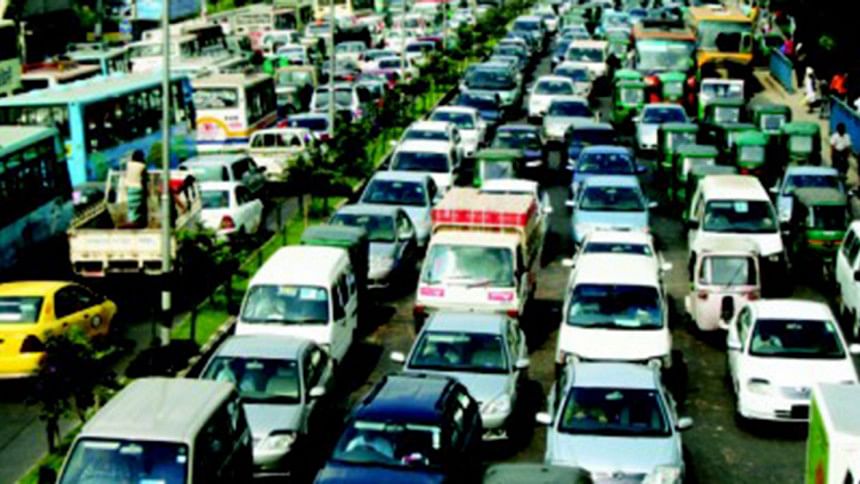 The government would set the limit of private cars for a family aimed at mitigating the city's horrific traffic congestion, Road Transport and Bridges Minister Obaidul Quader told parliament today.
Replying to lawmakers' queries, the minister said a proposal has been incorporated in the draft road transport and traffic bill 2015 to fix the highest number of private cars for every family.
A process is now at the final stage to enact two separate laws--Bangladesh Road Transport Authority Bill, 2015 and Road Transport and Traffic Bill 2015 - as an alternative to the Motor Vehicle Ordinance, 1983, Quader added.
In reply to another question, the minister informed the House that the long-awaited Dhaka-Chittagong four-lane highway will be inaugurated on May by Prime Minister Sheikh Hasina as works of the mega project has almost been completed.
"Completion of the work of 192kilometer Dhaka-Chittagong four-lane is at the fag-end. Last Sunday, I cancelled my air ticket and returned to Dhaka by road from Chittagong. On my way back to Dhaka, I have instructed engineers at different points to complete the works of finishing layer quickly," he added.
The minister also said the government has a plan to construct the 2nd Padma Bridge at Paturia-Goalanda point.
He hoped that it would be possible to start the construction of the proposed bridge if foreign donation is available.
Meanwhile, the minister said a survey has identified some 227 black spots for traffic congestion and road accidents on different highways.
Of them, remedial works for 68 black spots have already been completed, said Quader while replying to a scripted answer.