AL leader held with 3.23 tons of rice in Rajshahi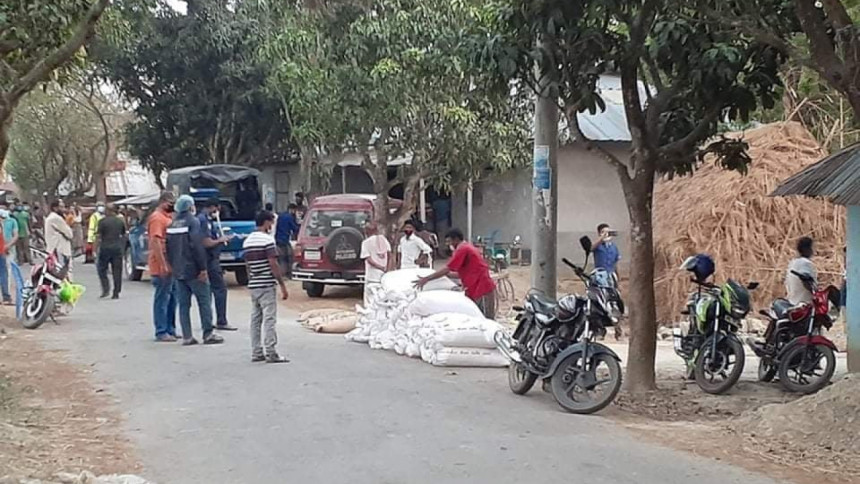 For the last one month, while about 500 ultra-poor people in Rajshahi's Godagari were waiting to buy their shares of government allocated relief rice at Tk 10 per kg, a local rice dealer had been refusing them.
The dealer, Alal Uddin Swapan -- president of the Pakri union unit of Awami League -- had been allegedly asking the documented poor in the area to leave their social safety net cards with him, so that he can call them once the rice is available.
"What the dealer was actually doing behind the scenes was a terrible crime," Nazmul Islam Sarker, Upazila Nirbahi Officer (UNO) of Godagari, told The Daily Star.
The dealer had been refusing the poor people despite the fact that he withdrew rice from government warehouses twice since March, illegally stored the relief rice at his house and filled out an official register with information of the poor people's social safety net cards to show completion of the distribution, the UNO said.
Informed by locals, the UNO led a team of officials and raided the dealer's house on Saturday evening and seized 67 sacks of 3.23 tonnes of rice.
UNO Sarker and his team also recovered social safety net cards of 35 people and a register that was filled with around 200 'false' signatures of poor people.
Inside his house, the raiding team found that the dealer's men had been unpacking the government-supplied 30 kg sacks -- bearing Prime Minister Sheikh Hasina's portrait -- and transferring the rice to 50 kg sacks.
"We found the rice in 61 packs of 50 kg sacks and six pieces of 30 kg sacks," the UNO added.
The dealer was scheduled to sell the rice at Tk 10 per kg among 500 listed card holders in the union.
Alal Uddin Swapan withdrew the rice on two dates -- March 8 and April 6.
Without distributing a single grain, he had been keeping the poor unfed and lobbying for more rice allocation at the same time, the UNO said.