12 students 'picked up' Wednesday
Allege families; police yet to confirm arrests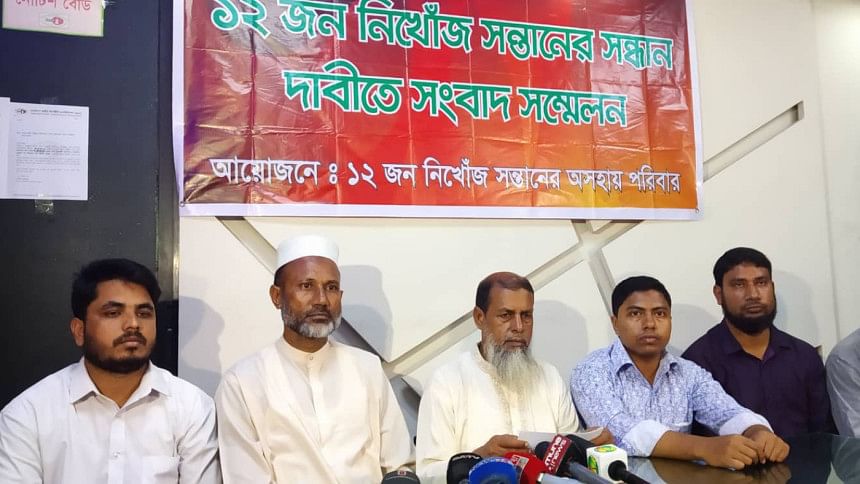 Polytechnic student Sifat and his elder brother Saifullah bin Mansur were picked up by detectives, along with some others, and taken to the Detective Branch (DB) office on Mintoo road on Wednesday.
A day later, Sifat, along with some others, were released. But Saifullah and 11 others have neither been released nor produced before a court in the last five days. 
Alleging illegal confinement of students by DB of police, the families of the 12 detained students yesterday held a press conference in the city's Crime Reporters' Association and demanded that the students be freed or produced before the court immediately.
As per the law, any detained person needs to be produced before a court within 24 hours of their detention.
The 12 "detained students" are -- Saifullah, Al Amin, Jahirul Islam Hasib, Mujahidul Islam, Jahangir Alam, Gazi M Borhan Uddin, Tarek Aziz, Mahfuz, Raihanul Abedin, Iftekhar Alam, Tarek Aziz and Mehedi Hasan Rajib.
"Police officials sometimes give assurances [that they are in custody] but sometimes they deny picking them up. We came to know from those who were released that our children are being tortured and are confined to the DB office...We are in fear about the fate of our children," said Mansur Rahman, father of Saifullah.
"Sifat was tortured less than others and yet his narration of agony was horrifying," he said, quoting Sifat.
More than two dozen students were picked up from different messes during raids at different points in Mohakhali and Tejgaon on Wednesday.
The DB officials allegedly quizzed them about the quota movement and student protests for road safety, several family members told reporters at the briefing, quoting those released.
Contacted, some police officials kept mum on the issue while DB Additional Commissioner Abdul Baten could not be reached for comments as he did not receive any calls to his phone.
Meanwhile, Mansur claimed that his son Saifullah lived in Modhupur in Tangail with his family but started staying in Sifat's mess in Mohakhali after Eid to attend the training sessions of a pharmaceutical company he had recently joined.
"Saifullah was in Tangail during both movements and he was in no way involved."
"We are deeply concerned as we do not know what is going on…whether our sons have been killed or they are still alive," said another guardian.
Enamul Haque, a guardian, told reporters in the briefing that his son Jahirul was staying in a mess at Tejkunipara and was taking coaching lessons for Dhaka University admission tests.
"He was picked up on Wednesday. I went to the DB office several times. Sometimes they said they had him in custody and sometimes they denied it. We are in fear and uncertainty." 
He added that he had not been able to meet his son since he was picked up.
Rashed Alam, brother of another detainee, Iftekhar, arrived in the city from Noakhali after being informed of his brother's detention by Iftekhar's neighbours. He still does not know for sure how or where his brother is.
"Produce him before the court if he has committed a crime or release him otherwise," he appealed.
Rafiqul Islam, father of Raihanul, could not hold back his tears when others were demanding a safe return of their sons.
"Please ask them to release him as I toiled a lot for my son," requested Rafiqul, a driver by profession. 
The family members requested human rights organisations to be vocal against the confinement of their dear ones.
Nur Khan Liton, a human rights activist, said, "Law enforcers are dodging the law to produce detainees before a court within 24 hours showing various excuses. This is against the law and action must be taken against those who practice it."
He added that this practice has increased among some members of the law enforcers and unless it was stopped immediately, the public would lose faith in them.
Around 150 persons, mostly students were arrested by police centring recent quota and student movement. Most of them were released on bail before Eid.