AMAR EKUSHEY
A rendezvous of poets and poetry lovers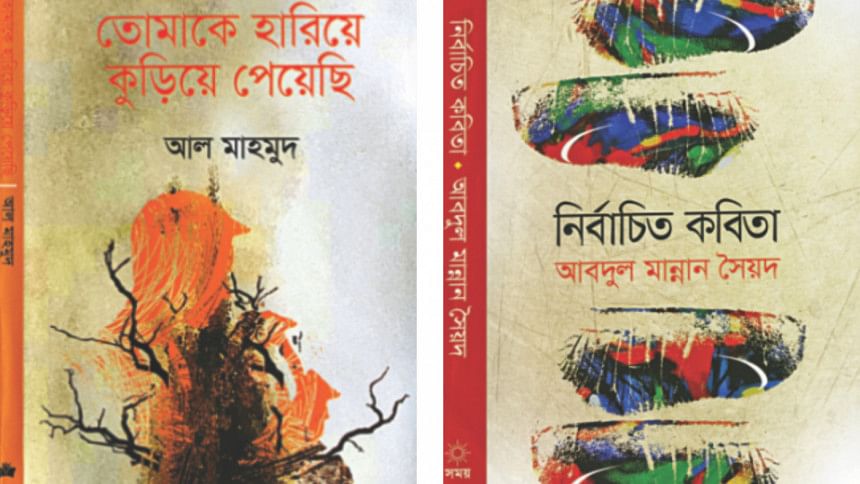 Why do we read poetry?
Is it because poetry is the spontaneous overflow of powerful feelings: it takes its origin from emotion recollected in tranquility, as said by William Wordsworth?
Or is it the transformative power of words that can reach one on an emotional level, make us think, question, cry, smile and inspire to be a better person?
Whatever the answer may be, poetry can change us and help see things in ways we had not seen before.
And every year, Ekushey book fair turns into a joyous festival of poets, their verses and readers -- where all congregate to find the answer.
This year's fair is no different. Poetry lovers were seen quenching their thirsts at Suhrawardy Udyan yesterday.
Sayedatunnesa Ruhi, a sophomore of Dhaka Dental College, was reading poems of veteran poet Al Mahmud at a stall.
"Al Mahmud's writings highlight nature, riverine life, Language Movement, nationalism, and chronicles of the oppressed," said Ruhi, flipping the pages of Al Mahmud's "Kobita Sangroha" (Collection of Poems) at Akthar Prokashani.
Poetry lovers also got a chance to get a new poetry book of the 81-year-old, considered one of the greatest poets of the country. His book "Tomake Hariye Kuriye Peyechi" is available at Joyotee publication.
Meanwhile, Ruhi was also planning to buy a poetry collection of Jibanananda Das, a favourite among poetry lovers at the fair, for his ability to shape themes with words, metaphors, and imagery. "His poems are to be felt, not read or heard," she smiled.
This correspondent also met Wahida Zaman Shithi, a final year student of Dhaka University, who said she cannot leave the fair without buying the poetry collection of Rudra Mohammad Shahidullah.
"There's a sense of melancholy and longing embedded in his words that I love the most," she said, adding, "I love the song (poem) Amar Bhitor Bahire Ontore Ontore…"
The stall of Bishwo Shahitto Kendro was abuzz with university and college students reading verses -- some aloud and some softly -- enthralled by the words.
"Sukanter Shreshtho Kobita" (best poems of Sukanta) and "Nazrul's Nirbachito Kobita" (selected poems of Nazrul) both edited by Prof Abdullah Abu Sayeed also generated much enthusiasm.
Meanwhile, young poets were also hopeful they will draw attention of poetry lovers.
"I have tried to portray happiness and sorrow in everyday life through poems," said Emran Mahfuz, whose first poetry book "Dirgasthaee Shokshava" was published by Oitijjo publishing.
Also, translated versions of poetry added an extra flair to the festival. "Kabita Down Under", a collection of Australian poetry, published by Bhashachitra generated much curiosity.
Anisur Rahman of Somoy Prokashani said, "Abdul Mannan Syed's Nirbachito Kabita (selected poems) is selling well, which arrived this month."
In addition, the book fair provided a great opportunity for the readers to meet writers. Nayamatullah Rahat, a ninth grader, was ecstatic as he got an autograph from his favourite writer Dr Muhammad Zafar Iqbal.
The book fair not only brought together bookworms or authors, but many, after a hard day's work, were seen walking around the premises, enjoying the ambience with their loved ones.
A fountain was set up on the fair ground at Suhrawardy Udyan, which in the evening exuded calmness awash in colorful hues and became a much coveted selfie destination.
On the 9th day, 125 new books arrived, including 28 poetry books.
Yesterday, a discussion on "Bangla Bhashay Itihash Chorcha" (studying history in Bangla) was held at the Bangla Academy, presided over by historian Prof Muntasir Mamun.